An intro video is one of the most influential tools you have at your disposal. It helps you introduce yourself to potential students or their parents and allows you to showcase your talent, skills and expertise to them. An intro video can play a key role in helping students or parents make their decision on taking classes with you.
Tips on recording a good intro video:
Record in a room that has

plenty of light

, stand facing the light.

Put your

phone on silent mode

before recording so that incoming notifications are not heard in the video.

Ensure that your

surroundings are noise-free

before starting the recording.

Practice what you are going to say

before making the video so that you don't stop too often.

Speak loudly

and with confidence.

Be

well-groomed and well dressed

for the video.
With the self-record feature for intro videos, you will be able to create an intro video for each of the subjects you teach using the Tutors App.
Here's how you can access this feature:
Step 1: Login to the UrbanPro Tutors App
Step 2: Click on the 3 horizontal lines in the top left corner
Step 3: Click on "Profile"
Step 4: Click on "Profile Information"
Step 5: Click on "Gallery & Intro Video"
Step 6: Click on "Record or Upload Intro Video"
Step 7: Select a subject and click on "Continue"
Step 8: You can record a video with or without a script
1. Launch the UrbanPro for Tutors app and log into your account
2. Click on the 3 horizontal lines in the top left-hand corner of the screen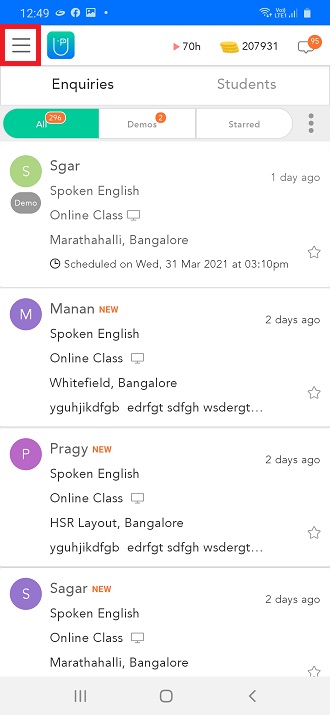 3. Now click on Profile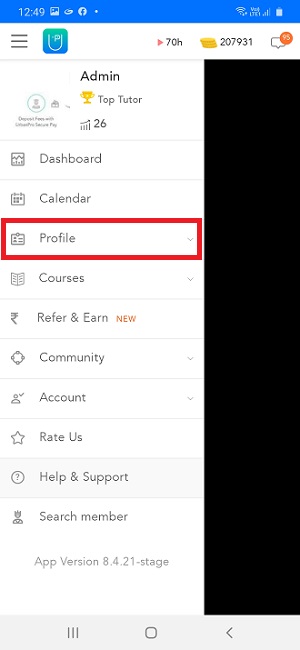 4. Click on Profile Information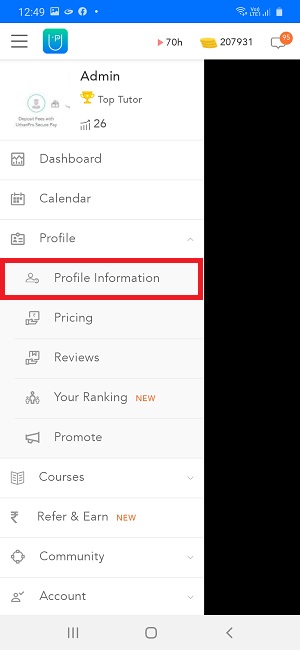 5. Click on Intro Video & Gallery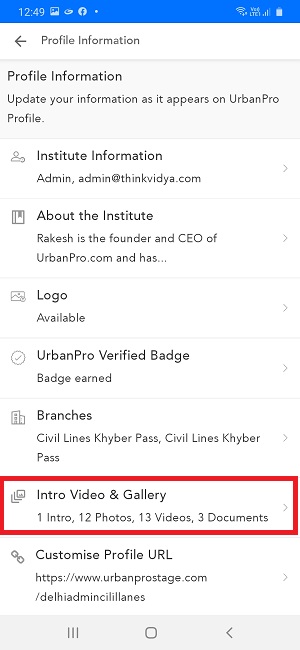 6. Click on Intro Video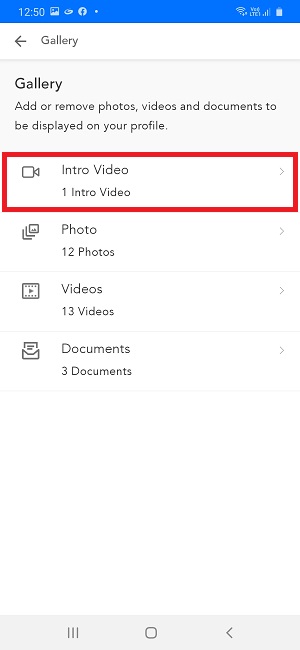 7. Click on Record Intro Video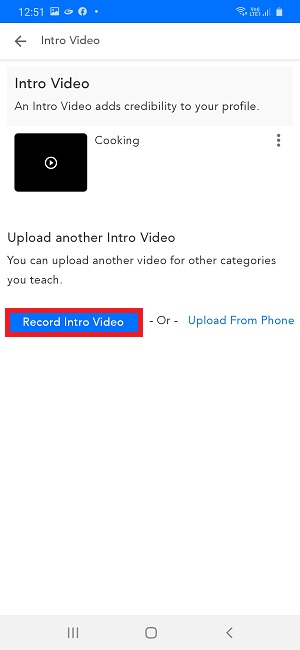 8. Select the subject the intro video is meant for and click on Continue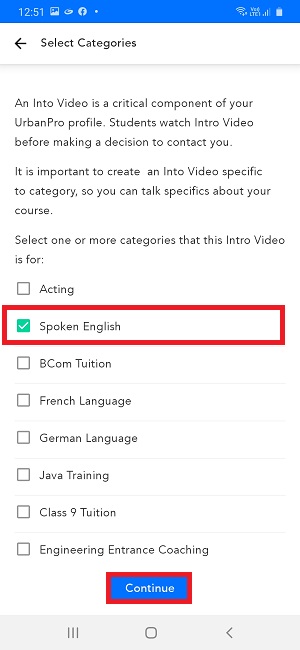 9. You now have two options, record an intro video after creating a script or record one without a script. Pick one to record the video.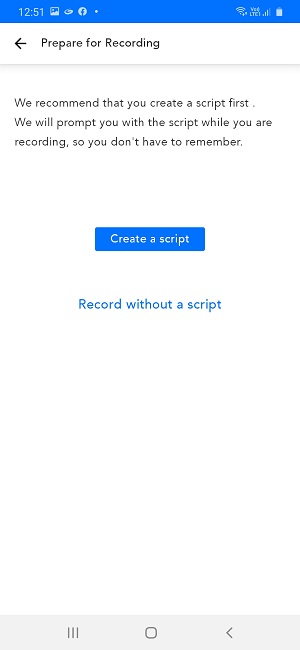 Note: Keep your intro video between 30 seconds and 2 minutes long.
Recording with a script
Recording an intro video after creating a script is the best way to proceed because it helps you maintain a smooth flow and ensure that you mention all the relevant information. It also helps you sound more confident in the video since you won't spend any time thinking about what to say next. To record using a script here is what you need to do
1. Click on Create a script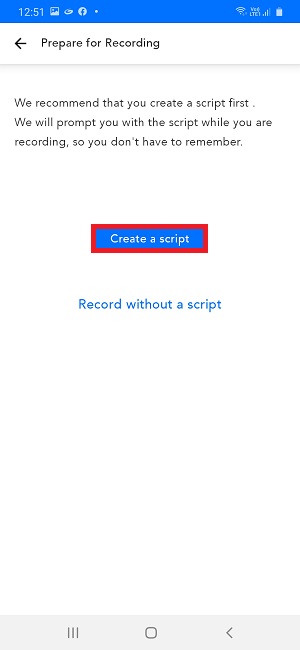 2. Fill in all the fields with the appropriate information in full sentences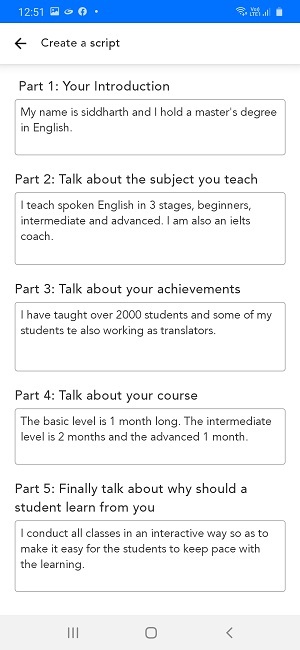 3. Go through the instructions and click on Let's Begin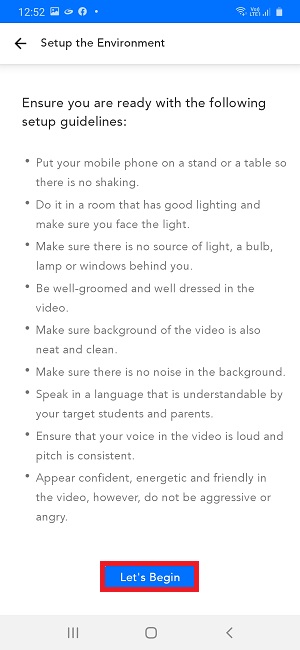 4. Click on the record button to start recording. Start talking after the beep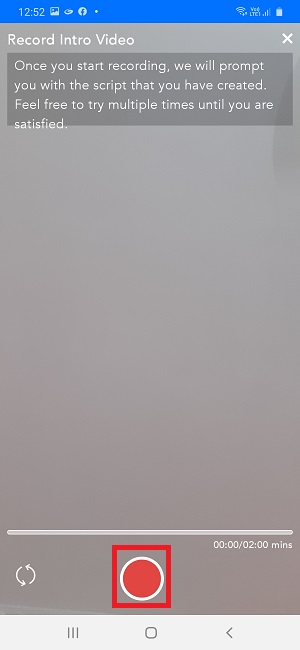 5. Once you start recording, the script you created will show on the top of the screen. Just read it out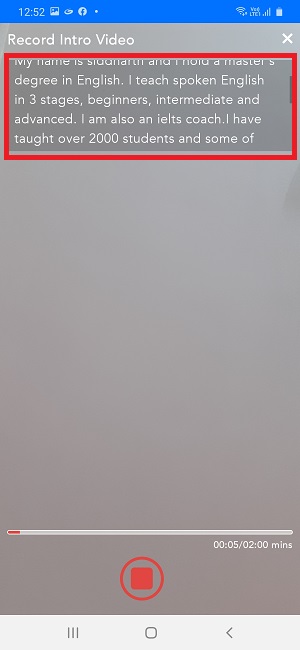 6. Once you are done recording, click on the record button again to stop recording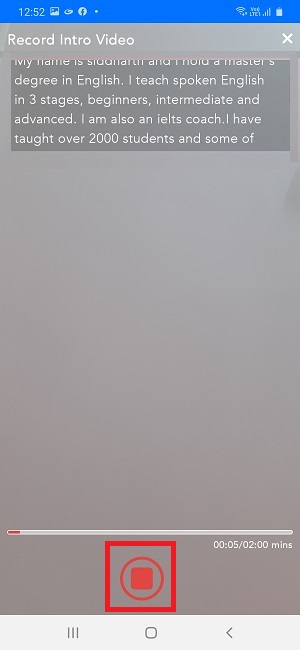 7. Now click on Next and watch the preview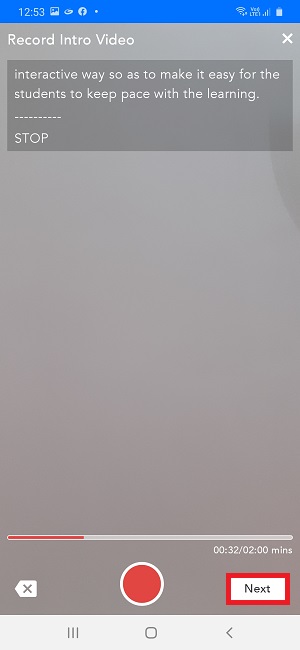 8. If you want to add more to the video or record it again, click on the back button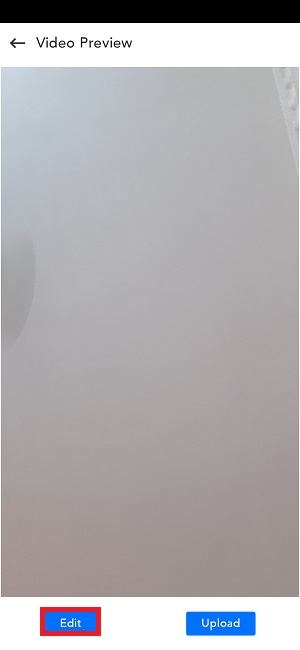 9. If you are satisfied with the video, click on the Upload button

Recording without a script
Recording without a script option will allow you to jump straight into recording your video. Before you click on this option make sure you know what you are going to talk about. The points to cover would be:
Introduction: Name and qualifications
Talk about the subjects you teach
Talk about your achievements
Talk about your course
Talk about why students should choose you
To start recording without a script follow these steps:
1. Click on Record without a script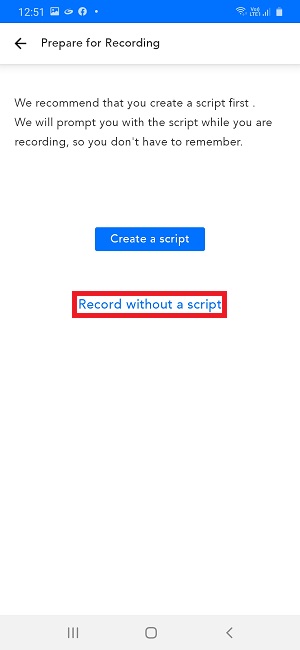 2. Go through the instructions and click on Continue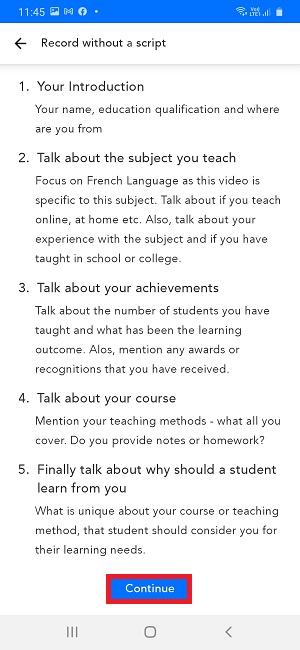 3. Read the instructions on the next page and click on Let's Begin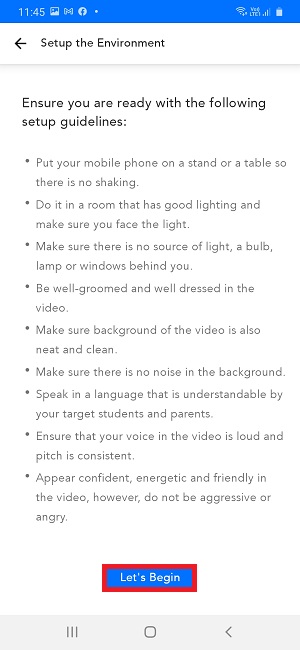 4. Click on the record button to start recording. Start talking after the beep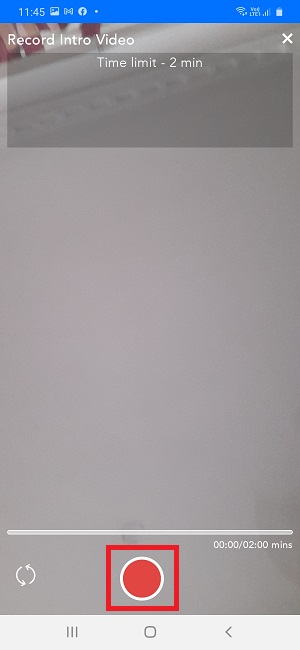 5. Once you start recording, wait for the beep and start recording your intro
6. Once you are done recording, click on the record button again to stop recording
7. Now click on Next and watch the preview
8. If you want to add more to the video or record it again, click on the back button
9. If you are satisfied with the video, click on the Upload button