Since its inception, the UrbanPro Partnership program, formerly known as UrbanPro Assured, has undergone numerous changes. These changes were made to improve the platform and the program to live up to it's guiding principles of providing tutors and students with a great experience with online classes.
You can keep up with the changes made to the program on this page.
Updates in 2020
December 25
Apply to become a Top Tutor
You will now be able to apply to become a Top Tutor yourself if you meet the minimum criteria for it. You will need to have:
A good intro video

A minimum of 5 reviews

A minimum of 1,200 coins in your account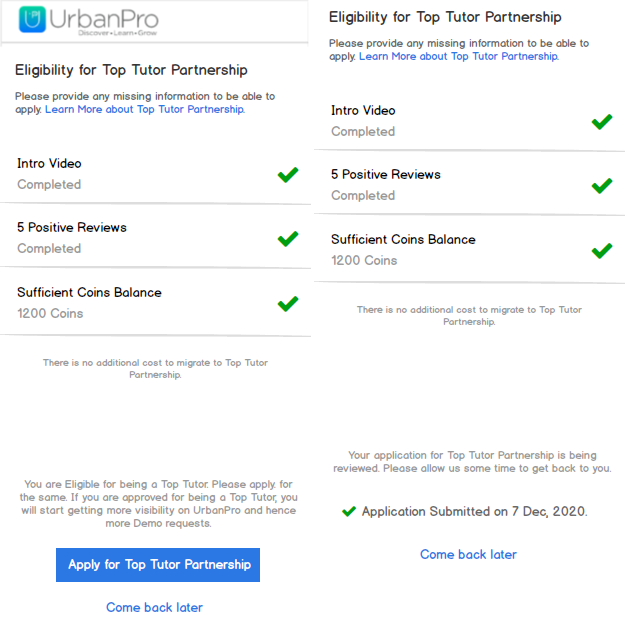 If you meet the criteria you can ask to be switched to a Top Tutor. Once you apply, someone from our team will get in touch with you and guide you through the rest of the process.
December 18
Send payment requests directly after the demo is completed
Now, instead of going to the demo tab or the contacted tab etc., you will be able to send a payment link to students the moment you finish the demo class. This has been done to help make the conversion process more streamlined.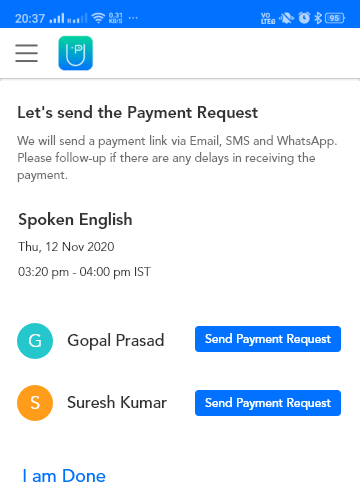 Need alert before approval
As you wait for your account to be approved, after having applied for the UrbanPro Partnership program, you will still be able to see the requirements students raise.
Tutors can offer certificates of participation
Your students may want validation for completing classes with you. Well now, you can offer them a certificate of participation that they can download once they have completed classes with you. Having a certificate available adds more value to their experience studying with you.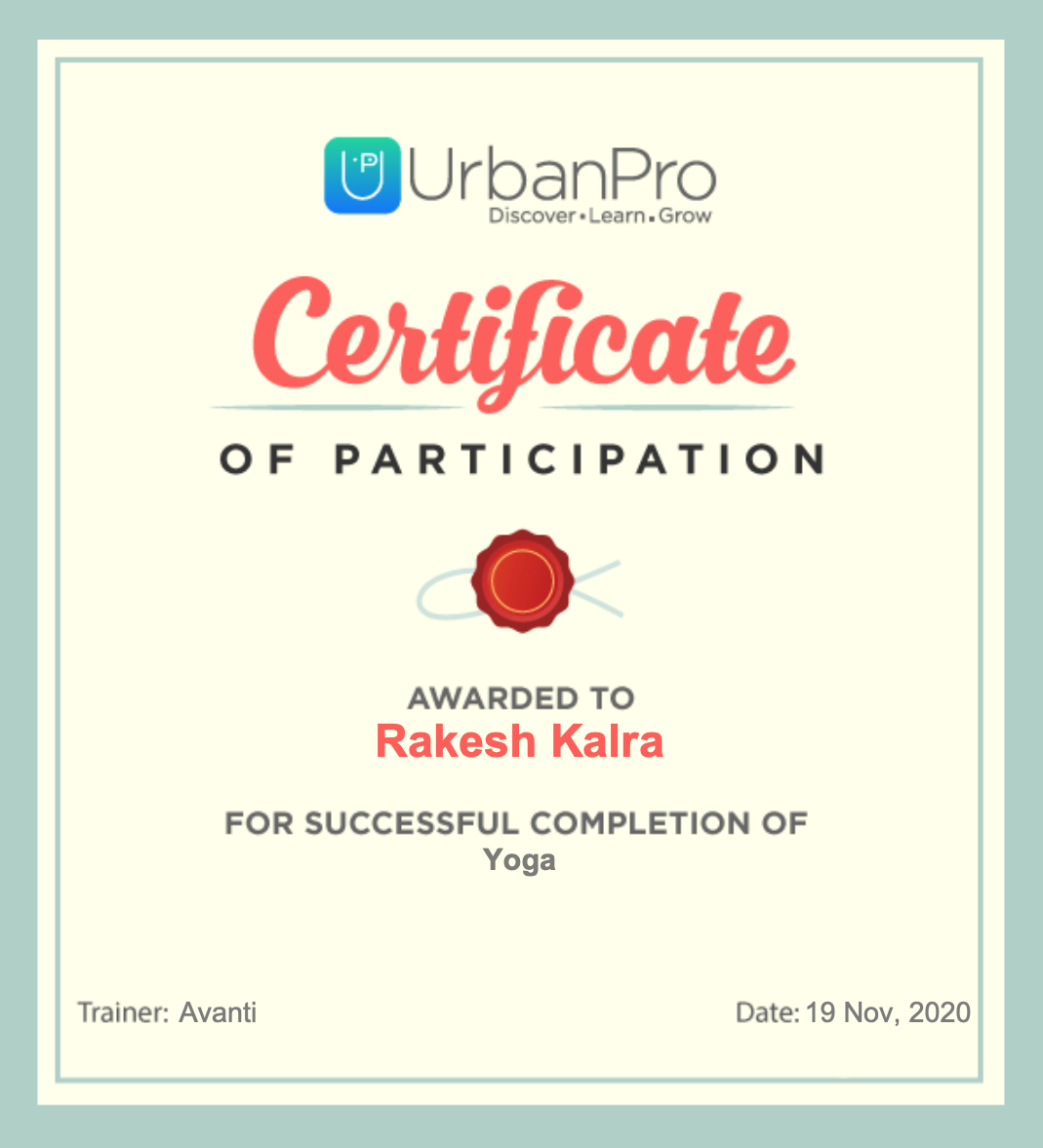 December 4
Attending demos is crucial
Demos are central to making the student and tutor experiences as great as can be. Therefore, we have focused more on them now. Since our objective is an excellent experience for both tutors and students, going forward:
If

students

miss the demo
We realise that your time is precious. That is why you will be compensated with 2X the coins that were spent If all the students miss the demo class.
If

you miss

the demo class

You will be charged 2X the coins for every student, whose demo you miss

Your account will automatically be suspended if you have missed 20% of the demos in the last 7 days (based on the number of students in each demo).

The first suspension will be for 7 days. On the second instance, your account will be suspended for 30 days. Any further violations and your account will be suspended permanently.
Reschedule demos to a convenient time
To make rescheduling of demos easier, and convenient, we have updated our platform to allow you to reschedule a demo to any time of your choosing. You no longer have to reschedule it only using the demo availability times.
November 6
Payment details added under Demo tab
Now you can see the details of payments made by students bu clicking on the Payments option under the demo tab.

November 27
Tutors can book demos at any time
Earlier, if you wanted to book a demo for a student, you had to use the slots you had already set up in the demo availability. Now you'll be able to book demos with students at any time other than the demo availability times also as long as they don't overlap with existing demo slots.
Share files through UrbanPro Chat
UrbanPro chat now supports attachments. This will allow you to share files with students with ease.
October 23
Tutor Partner introduced
This is when UrbanPro Assured changed in the UrbanPro Partnership program. With this change, there were two levels of membership created in the program, Tutor Partners and Top Tutors.
Student Payment summary added
With this feature a new feature, we have added the option for tutors to see the details of payments received from students via UrbanPro. It shows details of payments which are pending, made or scheduled for the future. (student payment details 1 & 2 image)
October 16th
Student feedback feature launched
Using this feature the students can provide feedback about the Demo classes they attended and what they felt about them. This is a crucial step in ensuring that students also receive the experience they are looking for from tutors.
Native Zoom integration
Up until now, to be able to launch and conduct classes on UrbanPro, Zoom software needed to be installed on the tutors' mobile devices, laptops or PCs. With this update, the need for installing Zoom's software has been eliminated and classes will work even if you don't have Zoom installed on your machine.
October 9th
Hindi classes shifted to UrbanPro Partnership
100% of the demand for Hindi classes was shifted to the UrbanPro Partnership program meaning that only tutors who are a part of the program will be able to respond to enquires for Hindi classes.