Since its inception, the UrbanPro Partnership program, formerly known as UrbanPro Assured, has undergone numerous changes. These changes were made to improve the platform and the program to live up to it's guiding principles of providing tutors and students with a great experience with online classes.
You can keep up with the changes made to the program on this page.
Updates in 2021
March 2021
12 March
Calendar pop-up added to the enquiry
Instead of going to the calendar to see demo classes you took, you can now just click on the date and time shown in the enquiry and see the details of the class in an instant.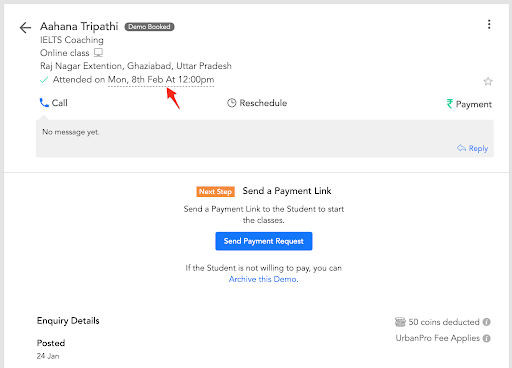 5 March
Demos bookings will depend on coin balance
Students will still be able to book demos with you even if you don't have a sufficient coin balance. However, you will not be able to book demos with students.
Sharing documents over chat becomes easier
As you know, you can share files with your students while chatting with them on UrbanPro. We have now made sharing of files even simpler. Now, all you have to do is to drag and drop the file you want to share, in the chat window.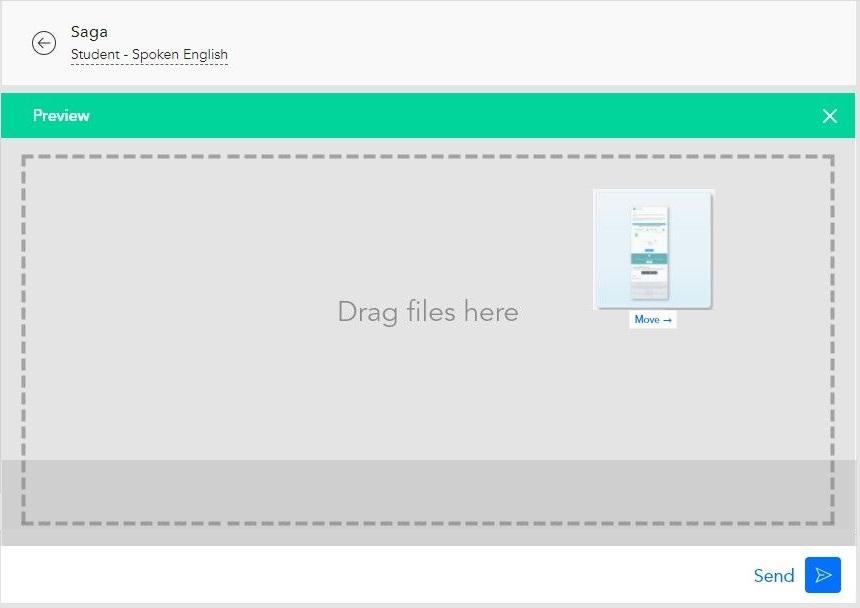 February 2021
26 Feb
Updates to coin deductions
As you know, we deduct coins only for valid connections made between tutors and students over a call, a message or a demo. However, all of them resulted in an equal number of coins getting deducted. Since demos have a higher probability of conversion, henceforth, these will result in additional coin deduction. We believe this will help us sustain the growth of the platform and deliver a better experience for you with additional investments in product and demand. Please go through the details of the new coin deduction policy below carefully.
No coins will be refunded if the students miss the demos

If the student cancels the demo booking within 1 hour, 1X coins will be refunded. (1X means the charge will be equal to the coins charged for a connection between student and tutor)

Coins will be deducted when a call to a student is made or a message sent by the tutor is read

After the call/message, if the student or the tutor books a demo, additional 1X coins will be deducted

If the student/tutor directly books a demo, without a call or message, then 2X coins will be deducted (2X means the charge will be equal to twice the coins charged for a connection between student and tutor)

If the tutor directly sends a payment link, and no coins were deducted earlier, then 1X coins will be deducted

All deductions will be shown while tutors are scheduling demos
Demos can't be booked if the account has insufficient coins
If you do not maintain a sufficient coin balance in your account then neither you nor the students will be able to book demos with you. You will also see a message that will inform you if your coin balance is insufficient while booking a demo.
19 Feb
Share links to external websites
Some of you told us that you were not able to share links to official websites for students to visit. Well, after this update you won't have to worry about that anymore. We have begun making it possible for you to share links to official websites like:
tcyonline.com

ieltstest.com

Ielts-exam.net
No more confusion with closed enquiries
To reduce confusion about an enquiry's status, we have created a completely new tab where you'll be able to see all closed enquiries. These will be the enquiries that you didn't respond to and have now been closed.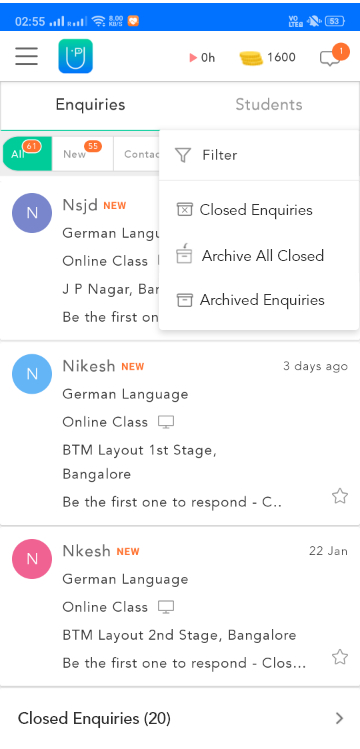 13 Feb
Reschedule missed demos directly from the calendar
If you had a demo scheduled and you didn't conduct it, you will get a popup when you go to the calendar allowing you to reschedule that demo to a more convenient time. If you choose to reschedule the demo you will be able to pick the right time once you click on the Reschedule button.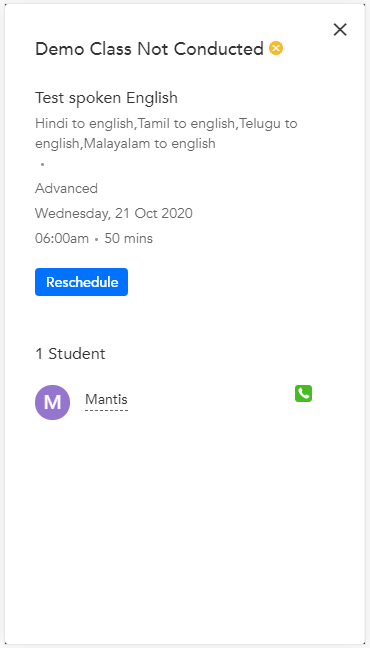 Reschedule upcoming demos directly from the calendar
If you have a demo booked with a student, you will also be able to reschedule it from the calendar. For upcoming demos, you will also have the option to cancel it from this popup, provided it is cancelled at least 4 hours in advance.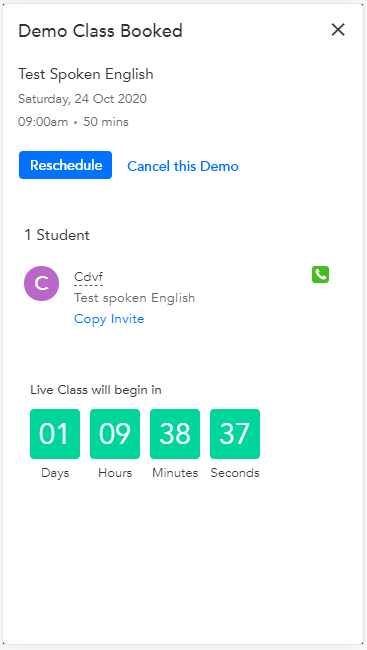 Auto response is back!
You can set up automatic responses to enquiries from the UrbanPro Partnership program too. This will allow you to respond to student enquiries even while you are away. Please note, for auto-response, coins will be deducted the moment the automatic response is sent.
5 Feb
Schedule classes for entire batches
You will now be able to schedule classes for an entire batch of students at a time. To use this facility, all you have to do is add students to a particular batch. Then, while you are scheduling a class, instead of typing a students name, just enter the name of the batch. This will schedule a class for all the students in that batch for your chosen date and time. You also be able to add other students to this class if you wish to. Once scheduled, all students in the class will be notified via messages, emails and notifications, about the upcoming classes.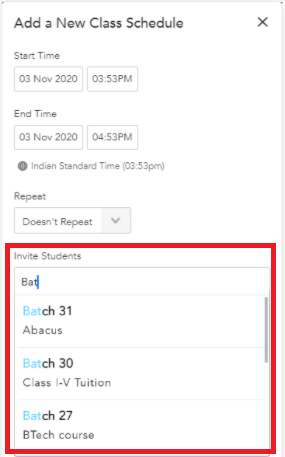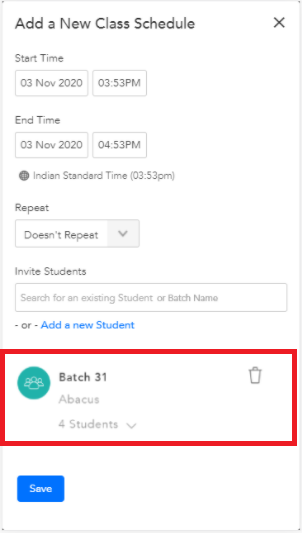 Chat with the batch
We have made changes to the chat option as well. Now you can send a message to an entire batch. Once sent, all students in that batch will be able to see your message and respond to it. This is designed to help make communication with your students easier.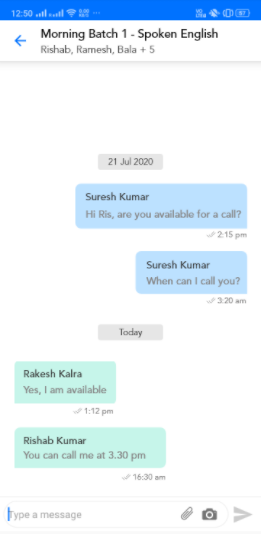 Updates on students
If a student has a demo scheduled with you and he/she starts classes with another tutor, you will now be notified of the same. Should a student start classes with another tutor, any demos booked by them with you will also be cancelled.
27 January
No attachments sent through Zoom chat
We will no longer support attachments being sent to students via the chat option in Zoom. This support will be withdrawn by the 29th of January. If you wish to send students attachments, you can use the chat option available in the UrbanPro Platform.
Apply to become a Top Tutor
Once you meet the requirements, you can apply to become a Top Tutor for the categories that you are eligible for. When you click on the Apply button, if you meet the criteria, you will instantly be upgraded to a top tutor and enjoy benefits like Account Managers and greater search visibility on UrbanPro. You can read more about it here.
Refer & Earn
Whenever you refer a student to UrbanPro and they make their first payment for classes, you will get a referral bonus of Rs. 500. The student you referred will also get a one-time discount of Rs. 500. To refer a student, simply click here.
15 January
Chat with the right student
Using the in-built chat feature on the UrbanPro platform has been made easier because you can now search for any of your students you want to chat with. No more scrolling through lists of students to find the right one.

Intro videos are now specific to categories
If you teach Spoken English, it doesn't help much if your intro videos talk about other subjects you teach. To solve this problem, you can now upload a unique intro video for each category you teach. All you have to do is go to Profile>> Profile Information>> Gallery>> Intro Video. Then choose a video to upload and select the categories you want to show for.
Updates in 2020
December 25
Apply to become a Top Tutor
You will now be able to apply to become a Top Tutor yourself if you meet the minimum criteria for it. You will need to have:
A good intro video

A minimum of 5 reviews

A minimum of 1,200 coins in your account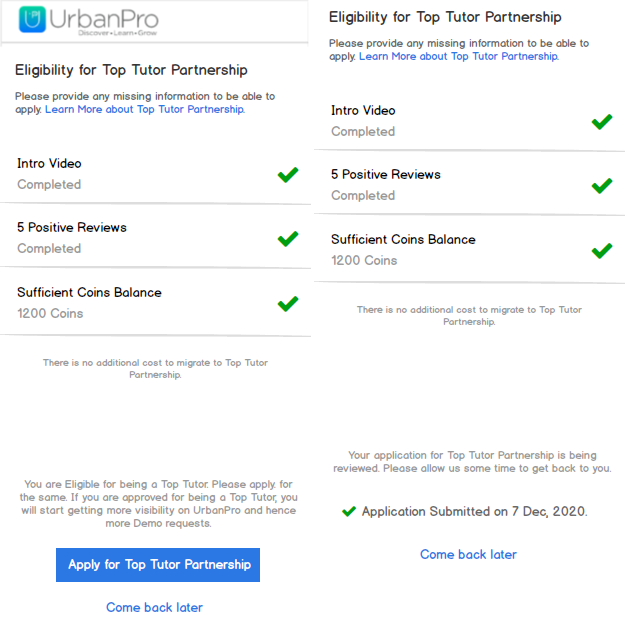 If you meet the criteria you can ask to be switched to a Top Tutor. Once you apply, someone from our team will get in touch with you and guide you through the rest of the process.
December 18
Send payment requests directly after the demo is completed
Now, instead of going to the demo tab or the contacted tab etc., you will be able to send a payment link to students the moment you finish the demo class. This has been done to help make the conversion process more streamlined.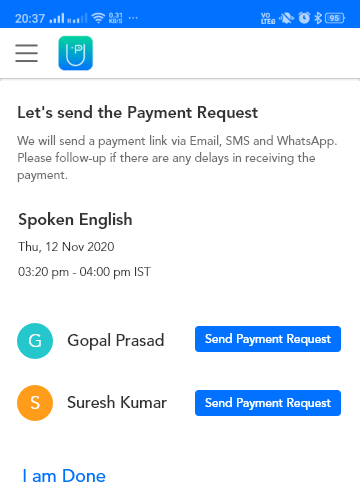 Need alert before approval
As you wait for your account to be approved, after having applied for the UrbanPro Partnership program, you will still be able to see the requirements students raise.
Tutors can offer certificates of participation
Your students may want validation for completing classes with you. Well now, you can offer them a certificate of participation that they can download once they have completed classes with you. Having a certificate available adds more value to their experience studying with you.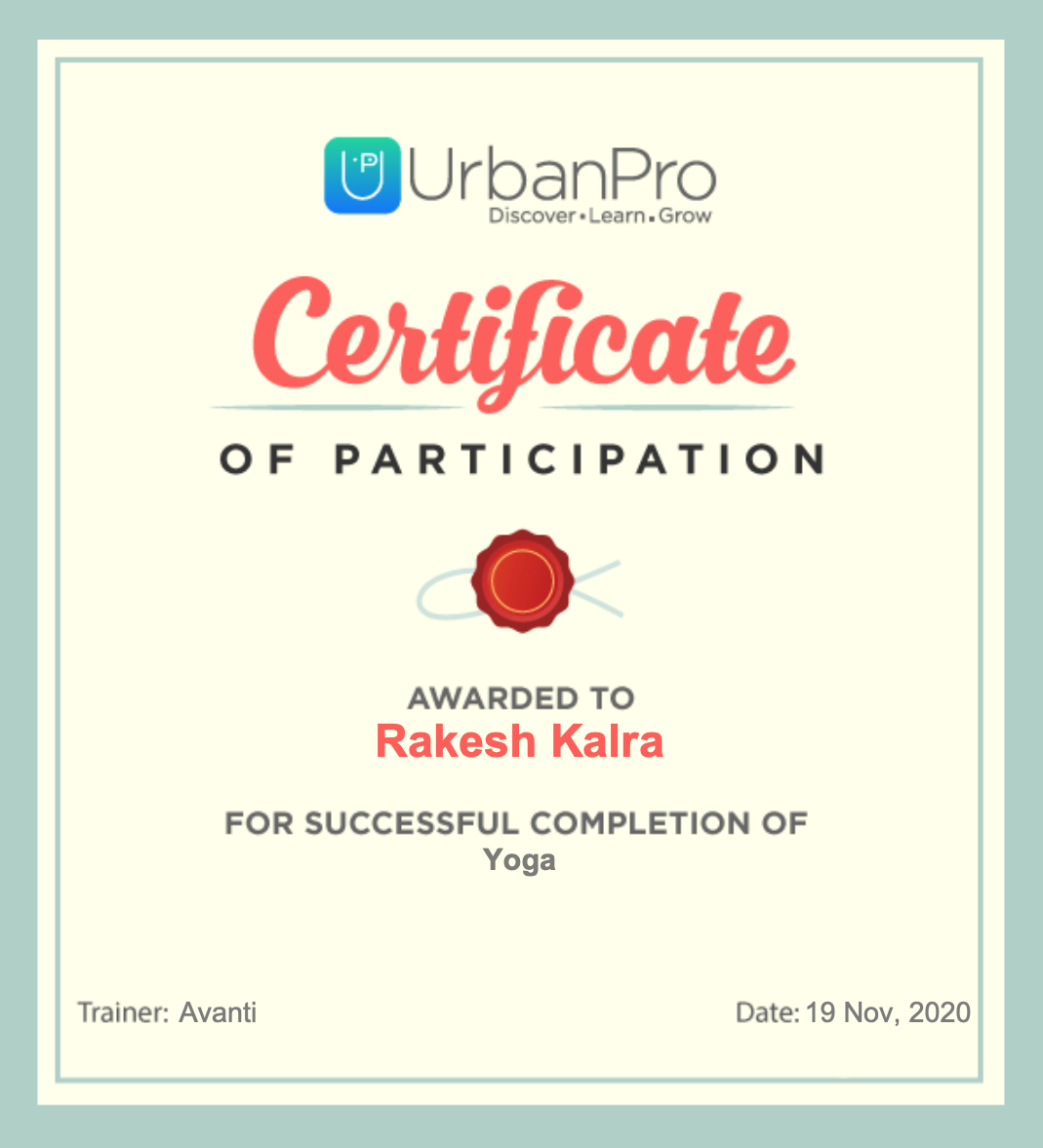 December 4
Attending demos is crucial
Demos are central to making the student and tutor experiences as great as can be. Therefore, we have focused more on them now. Since our objective is an excellent experience for both tutors and students, going forward:
If

students

miss the demo
We realise that your time is precious. That is why you will be compensated with 2X the coins that were spent If all the students miss the demo class.
If

you miss

the demo class

You will be charged 2X the coins for every student, whose demo you miss

Your account will automatically be suspended if you have missed 20% of the demos in the last 7 days (based on the number of students in each demo).

The first suspension will be for 7 days. On the second instance, your account will be suspended for 30 days. Any further violations and your account will be suspended permanently.
Reschedule demos to a convenient time
To make rescheduling of demos easier, and convenient, we have updated our platform to allow you to reschedule a demo to any time of your choosing. You no longer have to reschedule it only using the demo availability times.
November 6
Payment details added under Demo tab
Now you can see the details of payments made by students bu clicking on the Payments option under the demo tab.

November 27
Tutors can book demos at any time
Earlier, if you wanted to book a demo for a student, you had to use the slots you had already set up in the demo availability. Now you'll be able to book demos with students at any time other than the demo availability times also as long as they don't overlap with existing demo slots.
Share files through UrbanPro Chat
UrbanPro chat now supports attachments. This will allow you to share files with students with ease.
October 23
Tutor Partner introduced
This is when UrbanPro Assured changed in the UrbanPro Partnership program. With this change, there were two levels of membership created in the program, Tutor Partners and Top Tutors.
Student Payment summary added
With this feature a new feature, we have added the option for tutors to see the details of payments received from students via UrbanPro. It shows details of payments which are pending, made or scheduled for the future. (student payment details 1 & 2 image)
October 16th
Student feedback feature launched
Using this feature the students can provide feedback about the Demo classes they attended and what they felt about them. This is a crucial step in ensuring that students also receive the experience they are looking for from tutors.
Native Zoom integration
Up until now, to be able to launch and conduct classes on UrbanPro, Zoom software needed to be installed on the tutors' mobile devices, laptops or PCs. With this update, the need for installing Zoom's software has been eliminated and classes will work even if you don't have Zoom installed on your machine.
October 9th
Hindi classes shifted to UrbanPro Partnership
100% of the demand for Hindi classes was shifted to the UrbanPro Partnership program meaning that only tutors who are a part of the program will be able to respond to enquires for Hindi classes.