Since its inception, the UrbanPro Partnership program, formerly known as UrbanPro Assured, has undergone numerous changes. These changes were made to improve the platform and the program to live up to it's guiding principles of providing tutors and students with a great experience with online classes.
You can keep up with the changes made to the program on this page.
Updates in 2022
Mar 25, 2022
Earn 50 coins for Video Lessons and Answers:

Nowadays videos are most popular among students. They prefer to watch a video instead of reading the answers and solutions. So, keeping this in mind, we have come up with an option to answer the questions in video format, by which you can earn coins too.




Steps to add video lesson or answer:

Select answer type as video

Record a upto 3-minute video

Upload and save.
Once approved, this video will also be promoted on our Youtube channel.




Improved Manage Reviews section: Now easily reply to and manage your student reviews from the manage review section in your account. You can also have a view of how these reviews will show up to students.


Mar 11, 2022
Block a user in chat: This feature helps you to block a user and stop getting unwanted calls and messages. Once the user is blocked, the call and message option will disappear. You will get an option to unblock the user as well.

New Terms of use: We have updated the terms of use for our tutor partners. We request you to go through the same. We have defined all the terms and words used in the document for a better understanding and clarity on the meaning, wherever they have been used. Click here to know more about new terms of use.
Delete message in chat: The delete message option has been introduced with the aim to help you delete or clear out unwanted messages. This option can be used for both received and sent messages. Sent messages can also be deleted for everyone.
Schedule/Reschedule a demo in a calendar view: To schedule or reschedule a demo you can now select one of the available dates and time from the calendar in agreement with the student. This will avoid overlapping time slots of classes.

You can move the time block shown on top of the calendar to schedule or reschedule your demo.



More controls on regular and demo classes: Host key allows you to get additional controls in your live classes. Once you claim the host key you will have complete control of your class. Options like muting, unmuting and removing participants etc. will be available.

New interface for courses: With the new interface, you can now select the type of course you want to add. These courses are published on the web so that students can find them and register. The types of courses you can add are:

One time class or Workshop:

One-time class only meets once on a video chat session. These can be set up as one-on-one or as a group class.

Short course:

A short course has a finite set of classes that you can conduct on a video chat session.

On-going classes:

The ongoing classes can be practice sessions that students can join anytime. These are more useful for classes such as yoga, art etc.
Mar 04, 2022
New Terms of use: We have updated the terms of use for our tutor partners. We request you to go through the same. We have defined all the terms and words used in the document for a better understanding and clarity on the meaning, wherever they have been used. Click here to know more about new

terms of use

.
Feb 11, 2022
Manage and Create groups from Dashboard: Managing and creating groups is super easy now. Along with adding or removing a student from the group, you can schedule a class with the entire group. Not only this you can send messages and share files with the entire group as well.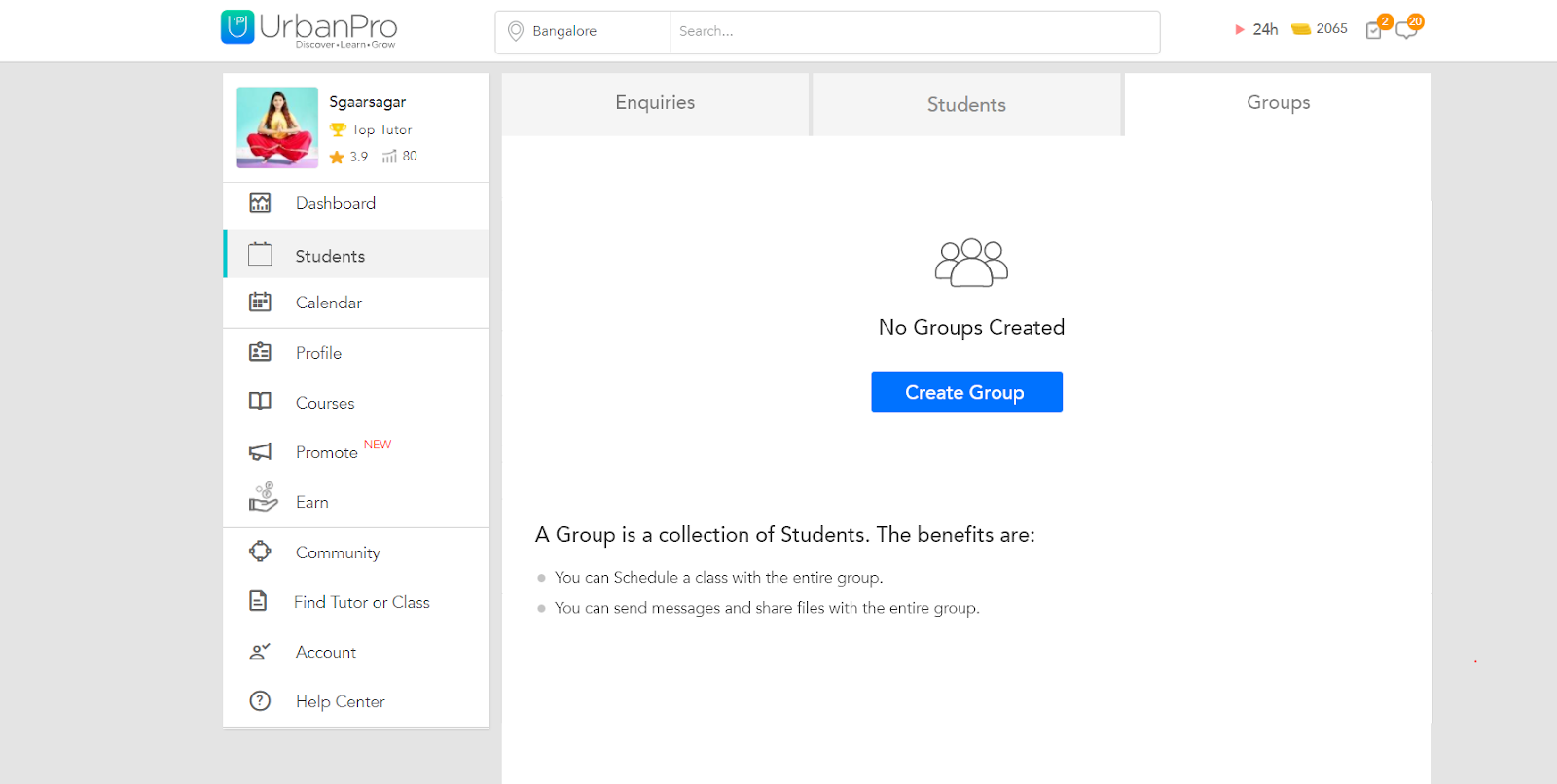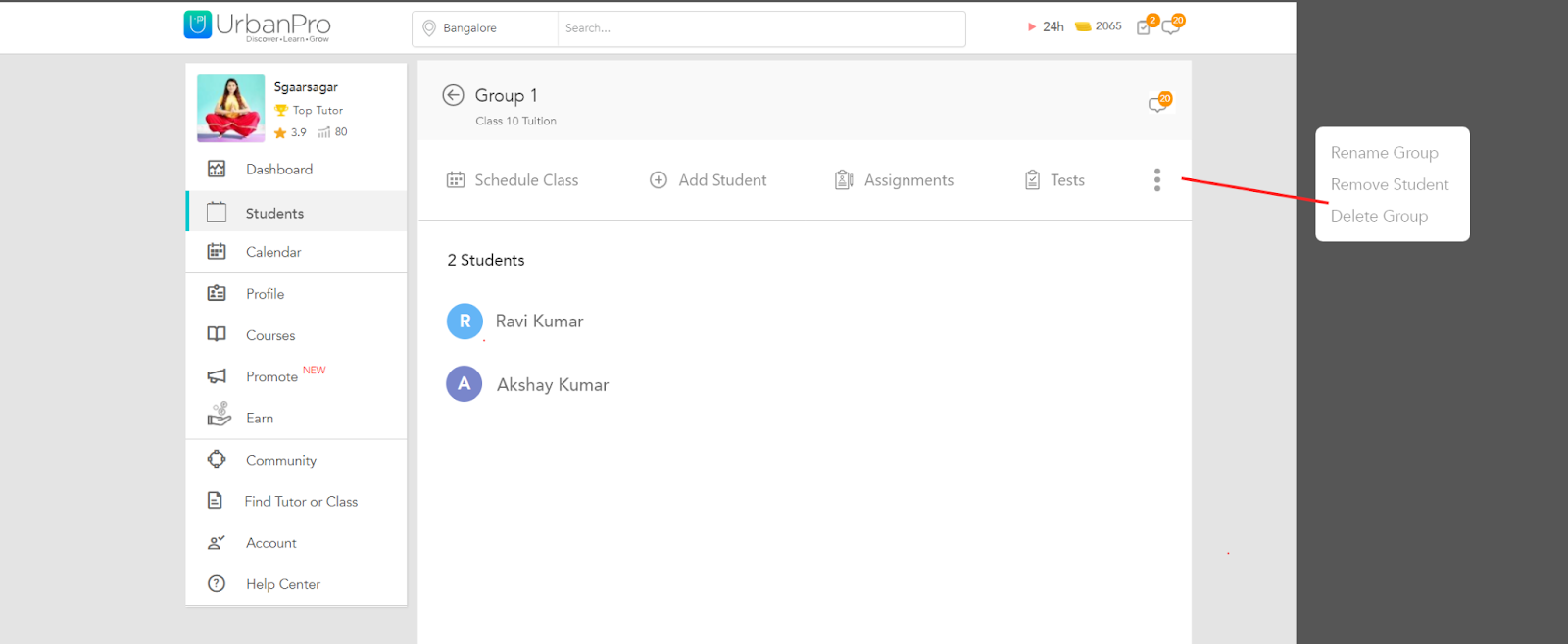 Share your class recordings on chat:

If you want to share class recordings with your students, it can be done on chat.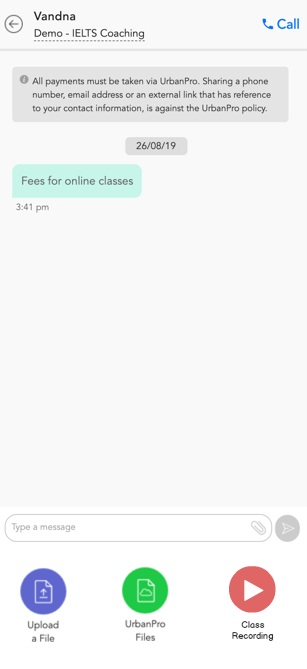 Download content uploaded by student: Now we have added an option to download the content shared by students with you. The file or document can be downloaded only if the student sharing the content allows for the same.
Select course when sending payment requests: With an intent to help you mention the right course while sending the payment request to your existing students, we have added an option to select the course for which you are sending the payment request. You will see the drop-down to select course under the heading "Class fees for" on the payment request page. This helps you to change the course for existing students if they are moving from 1 level to another of the course or from a lower grade to a higher grade.
Updates in 2021
Dec 3, 2021
Set Demo Availability for each category you teach: Now you can enable or disable demo classes availability for individual categories under Classes Conducted. The demo availability will be turned on by default. If you wish to turn off the demo availability:

Click on Classes conducted ---> Select category for which you want to turn off the demo availability ---> Turn off "Allow students to book demo class"

Download Your students' Certificate of Learning: UrbanPro provides a Certificate of Learning to your students on completion of classes. Students can download this Certificate from the UrbanPro app or website if they have completed 50% of the classes. Now you also have the option to download these certificates of each student.
More Opportunities to Advertise: With added places on search pages, if you opt for advertising by adding a minimal amount, your profile will be among the first 3 top profiles that will be made visible to a student looking for a tutor as per their preference.
Not only that, to increase your ad visibility and clicks, your advertisement will also be visible on provider listing pages and recommended profile section on the public profile pages of other tutors. To start advertising, click here
Nov 26, 2021
Set Location Preference for receiving enquiries:

Set your enquiry location and get the enquiries from the region you want.

So, if you don't want demos from a certain region, you can exclude them in your enquiry locations settings.
Dashboard ---> Account ---> Settings ---> Enquiry Locations ---> Save Locations
Nov 19, 2021
Multiple File-sharing support: You can now share multiple UrbanPro files with your students. You can decide if you would like the student to download a certain content document you share with the student. Select Multiple files you want to share, click on Next. Check the preview of multiple files and click send.

Call Recording Preferences: You can now easily set up your call recording preferences on the App. You can show or hide the call recordings from you and your students chat.
Account > Settings > Preferences > "Call recording preferences
By default, "show call recordings in chat" will be selected. If you wish to hide the call recordings in chat, select "Don't show call recordings in chat" and click Save changes.

Share Attachments in Enquiry Chat: With this new enhanced feature, you can now add attachments to your enquiry chat. Attachment and camera icons are shown in the text box.
Oct 29, 2021
Sponsored Ads: You can now advertise your profile for a minimal amount. This will keep you ahead of the competition on the platform and also provide you with better visibility. Once you opt for these Ads, your profile will be among the 1st profiles that will be made visible to a student looking for a Tutor as per their preference. Let's see how you can use this feature for your benefit:
Step 1: Go to advertise (NEW) and click on "Get Started"
Step 2: Fill in all the details and click on "Save"
Step 3: Mention the "Amount to Add" and click on Add Funds. You need to add a minimum of Rs. 1000/-
Step 4: Once funds are added, you can keep a track of how your Ad is performing
Oct 22, 2021
Referrals: We would love to see your friends and students become a part of UrbanPro. You can refer and earn as well.
Oct 15, 2021
Permanent Virtual Numbers for Top Tutors: As a Top Tutor, you will now have access to a dedicated virtual number. Students can save this particular contact number under your name and call you without logging on UrbanPro. It stays the same for any student or parent who wishes to call you. This will ensure that students have a single point of contact for you and also you are not apprehensive about a new virtual number being created every single time.
Call/message when Demo availability is off: Students can now stay connected with you through call or a message even if your demo availability is switched off. Once contact is made through call or message, you can further schedule a demo session with the student post confirmation as per your availability and student's preference.
Advertise your Profile on UrbanPro: In order to increase the visibility of your profile and to stay ahead of other Tutors, you can advertise your profile on UrbanPro. Login to your profile>> Go to Promote>>Select Advertise
Oct 1, 2021
Download documents: You can now enable the download option for certain documents that you share with your students. You can decide if you would like the student to download a certain content document you share with the student. If you select the option "Allow student to download this file", student will be able to download that particular file you have uploaded. This facility allows you to make content sharing and viewing better for students.
Promote your profile: You can now easily promote your UrbanPro profile by creating a shareable URL. Login to your Profile>> Go to Promote>> Customise profile URL>> Save Changes'.

Once you create your URL, you can promote your UrbanPro profile through various other social sites/mediums.

This gives your profile more visibility and attracts more students to your UrbanPro account at a minimal cost of 5% transaction fee per student.
Sept 24, 2021
New coin deduction and refund policy: We have made some changes in the coin policy to ensure that you are effectively getting charged for responding to enquiries from 'active' students only. The new policy will be effective from 24th September. As a result of this change, your investments in coin purchases will be more efficient and productive since you will automatically receive refunds to some extent. We believe that these changes will help you plan your coin usage better and get a higher number of student payments. For a detailed understanding of the upcoming Coin Policy, please refer to this document -> The new Coin policy for Tutor Partners
Add title to scheduled Class: You can now add a Class title while scheduling a class for one-on-one students or for a batch of students. This will also help you in keeping a track of classes that have been taught by you and also identifying the content of each class.
Sept 17, 2021
Track Masterclass enquiries: We are sure that you know all about Masterclass. If don't, here's your chance: Login to your profile>> Go to Promote>> Free Master classes. You can now keep a track of your Master class enquiries. You can keep a track of the students who have registered, attended or missed your Master class. This will help you understand your student audience and also keep a track of them.
Sept 10, 2021
No. of reviews available beside your profile photo: Reviews are crucial in helping students make a decision about the Tutor they wish to approach. A set of good reviews definitely gives a boost to your profile and increases visibility. Students definitely tend to incline towards Tutors who have a higher no. of positive reviews on their profile. We have made it easier for students to locate the no. of reviews on your profile. The number will be available right next to your profile photo with your average rating. Once the student clicks on the number, they will be able to view the content of the review as well.
Aug 27, 2021
Rejoin class option for students: In order to ensure that students have an uninterrupted and hassle free experience of their online class with you, we now have a "Rejoin" option available on the Student App. We wanted to keep you informed of this change so that you can assist your students in case they get disconnected and that you can keep them updated on this feature. This option is available on the "Please rate this class" screen. All the student has to do is click on the "Rejoin Class" button and the student will be redirected to the zoom class being conducted.
UrbanPro App is now available as a Sharing option in your other apps: We wanted to make sharing content easier for you and hence, we've made some improvements on our platform. Using this feature, you can share multiple images, videos and even documents with multiple students through the App.
Select the media you wish to share >>Option of sharing through UrbanPro, click on it>>Option to share content with students through chat list>>select the students you wish to share the content with and click on "Next">>Click on "Send" post reviewing and once you are sure of the content you wish to send
Aug 20, 2021
UrbanPro Partnership Training Courses will be available now even after completion:

Previously, once you would complete the courses (15 Lesson videos) available in your Task list, the course option would be removed and would no longer be available.

We have noticed multiple Tutors requesting for the courses to be available for quick reference and an easy handbook option. Now, the courses will be available at all times. This will help you revise and refer to processes at any point of time.
If you wish to check the courses, click here.
Aug 13, 2021
Safety measure for zoom classes:

In order to protect both your and the student's safety and to ensure that no unwanted person joins your class, we will be removing the option to share zoom links via messages. We urge you to instruct the student to ideally join a class by logging into their registered account via the UrbanPro App or website. At all times, a student who is scheduled for a particular class should be joining only using the UrbanPro class links. You can still share class links with the student, however, the student needs to be logged in to access the link to attend a class.
Aug 6, 2021
Host Key Option:

We have found that class recordings help students revise the subject and take notes as and when required, enabling an improved learning experience. Class recordings also ensure the security of both parties against any misconduct and allows auditing to ensure quality.

Therefore, we would like to inform you that, going forward, the host key option will be unavailable for any one-on-one session with a student (where the participant is only a single student). This change doesn't apply to group sessions with more than one student attending, but turning off recording continues to be against the policies and will result in a violation. Please note that this will not affect your ability to join and conduct your online classes in any way.

Student's name added to Calendar view: Keeping a track of Demos and Class schedules can sometimes be difficult. Calendars help us plan and organize everything we do. In order to streamline this process for you, in addition to viewing blocked schedules on your calendar, you will now be able to see the respective student's name on your calendar as well.
July 23, 2021
Verify Bank Account Details: For all payouts made to you by UrbanPro, it is important that you share your correct bank account details with us. In addition to sharing correct details, it is crucial to get your bank account details verified on our platform. Verifying your bank account details will ensure that you receive timely payouts.

Details are available

here

.

TCS Support: As per government guidelines, we have informed you of GST/TCS that will be applicable to you depending on your annual turnover per financial year. You can read in detail about the guidelines here. In case, you haven't registered for GSTIN and you fall under the bracket as mentioned under the guidelines, you can do so by registering here. We aim to assist you with the TCS calculation, to help you understand this better.

Details are available

here

.
July 16, 2021
Change in Group Class Policy-Paid Class: We have recently made changes and built a process around paid classes keeping both the Tutor and student in mind. Our objective for making these changes is to ensure that we capture the correct status of a particular class conducted and also minimize the friction between students and Tutors regarding the class that gets paid up. However, based on some feedback received from our Tutor Partners, these changes seemed to have created some unnecessary burden on Tutors to confirm paid classes for students who missed Group Classes. Therefore, we are making the following change in the policy, effective from this Friday i.e. 16th July. Even if one student of the group attends the group class and the Tutor is present, the class will be marked as "Paid" by default. However, we request Tutors to confirm the schedule with the students in advance so that we continue to earn their trust for their future learning requirements. Please note that the other policies and processes regarding 'paid classes' remain the same as communicated earlier. You can read in detail about the Paid class policy here.
Turn Off Demo Availability: We understand that keeping your Demo availability updated at all times and attending all Demo sessions is important. This is also one of our guidelines that needs to be followed in order to avoid any violations. To make this process seamless for Tutors, we have now introduced the option to "Turn Off" Demo availability as per your preference.

Details are available

here

.
July 9, 2021
Demo/Regular class Rating under Reviews: Reviews are important for building the Tutor better visibility on UrbanPro. It also helps Tutors get more demo sessions and in turn higher earnings students. You will now be able to spot both Demo and Regular class ratings under the Review section in your UrbanPro account. This will help you manage and understand your ratings under one single view. You can access these by logging into your UrbanPro account and clicking on Reviews.
Average Transaction Value: We know that you are the best judge when it comes to making a decision about your class fees. However, it is important that your quotes are competitive. Going forward, we will assist you in identifying if your quotes for a particular payment are competitive enough in your particular category as charging a lower fee will affect your ranking and earnings on UrbanPro. Every time you send out a payment request to a student after a successful demo session or interaction with a student and the fee charged by you is lower than the average fee charged on the platform, you will receive a notification.
Payment Policy: In order to keep a track of attendance and handle respective payments smoothly, we have come up with certain guidelines.

Details are available

here

.
July 2, 2021
Change in Minimum Fee for Spoken English Transactions: We had decreased the minimum fee for certain categories on June 4th, with the objective of helping Tutors convert better and offer more competitive pricing to their students. This was done to test whether we can continue our current investments with the revised fee structure. While the change worked out quite well for most categories, it's impact on the Spoken English category was not favourable when it came to the sustainability of our investments for growing the demand. Hence, the test is being reverted to its previous status and the Minimum Fee for Spoken English will be Rs. 1200/-. Please be assured that this won't affect your earnings if you are collecting a minimum of Rs 6000/- per student on average- since we won't charge additional fees until the fee collection crosses Rs 6000/-. Details are available here.
Improved Login Security: In our quest to make your experience with us smoother and to safeguard your details, we have added a step to platform security. Going forward, you will receive an OTP confirmation in case you wish to change the following:

Phone number &

Email ID. Once you key in the correct OTP, your request will be processed. You will be informed of the changes and the same will be visible on your UrbanPro account. These additional steps are a precautionary measure to ensure that correct identification is done and also individual details are preserved.
June 4, 2021
Changes in fee structure: According to the new structure of the transaction fee, the flat fee and the percentage of the transacted amount will still be charged. The exact fee charged will be shown in your accounts under payment details. Details are available here.
Keep class recordings on: We have found that class recordings are very helpful to students in helping them revise what was taught. They also deliver an overall better experience to students, prompting them to continue classes with tutors. For these reasons turning off class recordings will now be considered a violation of the UrbanPro Partnership program's guidelines.
The new Training Mode: In an effort to help tutors get used to demo classes we have introduced a new training mode. In this mode, you will receive one demo booking at a time. If your account is in training mode and you miss a demo, it will be considered a violation and your account will be deactivated. All new tutors on the platform will start in the training mode. Once you have successfully attended 3 consecutive demos, you will be out of the training mode and will be able to receive multiple demo requests at a time. If you are an existing tutor and miss a scheduled demo then your account will be put in training mode where you will have to accept and attend at least 1 demo to be able to come out of the training mode.
June 11, 2021
Payment reminders for students: In an effort to help you collect payments from students, we will be sending students up to 10 reminders to complete the payments. The reminders will be sent for up to 15 days after the due date and will also contain a link that will allow the students to make the payments. The reminders will be sent: 3 days before the due date, On the due date of the payment & 1 - 15 days after the due date
Onboarding training for tutors: To help you get familiar with the UrbanPro Partnership program we have been conducting training sessions for tutors. These are 45-minute sessions where we brief you on the Partnership program and also give you an opportunity to ask questions you may have. So if you have questions, or just want to know how UrbanPro Partnership works, just register. You can register for these training sessions using the following link. CTA: Register Now
June 18, 2021
No link sharing restriction on chat: In order to make your interactions with students much smoother, we have removed the link-sharing restriction from the chat option. Links can now be shared through chat both pre and post-payment made by the student. However, we would suggest that links and content be limited to the course and any material that might help the students understand and grasp your class better. This facility will ensure an enhanced and engaging experience for both you and your students. Please ensure you DO NOT share personal contact details (phone nos, email IDs)/profile link which will result in a violation.
Direct link to Tutor orientation courses: You can now easily access the courses on partnership programs. These courses will help you understand the program better and enable you to successfully grow and teach with UrbanPro. We definitely recommend going through this course and completing course modules so that you can use the tips and tools mentioned there to improve your rank and earnings on UrbanPro.
Free Live Master Class:

This feature will help you promote yourself, giving your prospective students a real-time insight into how you conduct your classes and attract more paying students. This will be a 1-hour long session wherein you will be able to demonstrate a live class for your respective category.

To access this option: Login to your UrbanPro account>>Promote>>Free Master Classes
How this Works:
Schedule a Free Master Class and UrbanPro will promote it.

Students register for your free Master Class, giving you free traffic that will visit your profile and book 1-1 demos with you.

Students can also buy Class packs directly from your profile in case you have created (strongly recommend).
June 25, 2021
Lock/Unlock capability for Class recordings:

In order to give you more control over class recordings, we have now given you the option to lock or unlock a particular class recording. You will now be able to make a decision as to which classes need to be locked and which need to be made available to the student.

You can also decide if a class recording should be unlocked for a limited period of time. In case, a class recording is locked and a student wishes to view it. He/she will receive a notification stating " This class recording is locked by Tutor. Please ask Tutor to unlock this class recording". You can manage class recordings by following the below-mentioned steps: Log in to UrbanPro Account>>Go to courses>> Go to content>>Scroll down to class recordings>>Beside every class conducted there will be a lock button.
May 7, 2021
Changes to the fee structure:

We have made some minor changes to the fee that we charge. You can see the details of the fee structure and the charges in

our help section

. You will be able to see the details, of the fee charged, by logging into your accounts and checking the details of the payments from students. The important changes are:
The 20% slab
A flat fee of Rs. 1,200 for the first Rs. 6000 of the transacted amount

For IELTS, a flat fee of Rs. 1,500 will be charged for the first Rs. 7,500

A fee of 20% will be applicable on any amount that exceeds Rs. Rs. 6,000 or Rs. 7,500
The 25% slab
A flat fee of Rs. 1,200 for the first Rs. 4,800 of the transacted amount

For IELTS, a flat fee of Rs. 1,500 will be charged for the first Rs. 6,000

A fee of 25% will be applicable on any amount that exceeds 4,800 or Rs. 6,000
May 14, 2021
Class recordings are helpful - Disabling them will be a violation of our terms:

We constantly seek feedback from both tutors and students. Through this feedback, we have learned that students find class recordings useful since they can use them for revisions. We, therefore, request you not to stop the recording of your classes. Stopping recording of classes will lead to a suspension of your UrbanPro tutor account effective from 15th May. So, kindly support us in ensuring that we continue to improve the experience of students learning on our platform.

Control over access to class recordings: We understand that class recordings are a great tool for students but we also recognise that you would like to have control over a student's access to the recording. That is why we will be launching a feature that will allow you to give, or restrict, your students access to your class recordings.
UrbanPro tutor orientation videos on the mobile app: We have created a set of videos that you can use to understand the UrbanPro Partnership program better. These videos are also available on the UrbanPro for Tutors mobile app now. To watch the videos, you just need to launch the app and click on the tasks icon. We encourage you to watch all the videos as they have been made to help you understand the Partnership program better.
May 21, 2021
Changes to the UrbanPro Partnership policy on violations: As a part of our constant efforts to ensure quality and fairplay we have made a few changes to the policy on violations of the UrbanPro Partnership guidelines. According to these changes, if there is a violation of the guidelines the actions will be taken. Details are available here.
Monthly payments available:

You will now be able to choose your payment schedule. You can collect payments on weekly or a monthly basis. Weekly payments will be processed every Tuesday and will consider classes completed up to Monday. Monthly payments will be processed on the last working day of the month and will be calculated based on classes completed up to the end of the previous day.
May 28, 2021
Book a training session:

We have launched live training sessions for you where our representatives will connect with you over video conferences to help you with your doubts. The session will be 45 min long and will contain a short presentation on the Partnership program. After the presentation, we will have a Q&A session. Please feel free to book a session with us using the link mentioned below.

Book Session. Note: Please ensure that you complete the tutor orientation videos before attending the videos.
Lock class recordings: We understand that class recordings are a great tool for students but we also recognise that you would like to have control over a student's access to the recording. That is why we will be launching a feature that will allow you to give, or restrict, your students access to your class recordings. Note: This option is currently only available on the UrbanPro website.
April 9, 2021
iOS UrbanPro for Tutors app is here:

We have launched the UrbanPro for Tutors app for iOS on the Apple App Store. That means all of you out there waiting for the iPhone version of the UrbanPro for Tutors app can now download and start using it on your Apple devices too. You can get the app by clicking on the link below.

Download Now

Take the UrbanPro Partnership course: We have created a short course for you and it's designed to help you become familiar with the UrbanPro Partnership program. It contains a series of videos covering various aspects of the program and how they work. The course will only take less than an hour of your time to complete and can be finished in your own time. You can access it from the tasks notification, on the top right hand side of the screen, when you log into your UrbanPro account.
April 16, 2021
Create your own intro video:

Intro videos are one of the most effective tools in showcasing your talent and achievements to potential students. They are shown on your UrbanPro profile and let students and parents get an idea of what your skills, expertise and capabilities are. In our latest update, we have made it very easy for you to record and upload your intro videos. This new feature will allow you to record your video from your mobile, use a script to ensure you cover all the relevant information and add a nice background music to your video.
You can access this feature by following these steps:
Log into your UrbanPro account from the app

Click on the 3 lines at the top left hand corner of your screen

Click on Profile

Click on Profile Information

Click on Intro Video & Gallery

Click on Intro Video

Click on Record Intro Video
Please note, you will need to update the UrbanPro for Tutors app for this feature to work.
To know more about this feature please read this article we have written on what it is and how to use it.
*This feature is only available on the UrbanPro for Tutors mobile app. If you don't have it, please download and install it right away.
5 students per demo: To make demo classes more efficient, we have reduced the maximum number of students allowed to attend a demo. Now you will be able to host a maximum of 5 students per demo instead of 10. This means that you can have anywhere between 1 to 5 students attend a demo class at a time. Please visit your demo availability and ensure that it is set between 1 and 5 students per demo class.
April 30, 2021
Launching classes is now easier:

We have made launching a class easier. Now you won't have to worry about entering the host key and taking over as the host. You can directly launch classes. Class recording will also start automatically so that students are able to review the lessons you teach them.

Changes to the fee structure: We have made some minor changes to the fee that we charge. You can see the details of the fee structure and the charges in our help section. You will be able to see the details of the fee charged by logging into your accounts and checking the payments from students. The important changes are as follows:

A flat fee of Rs. 1,200 will be charged for the first Rs. 4,800 to 6000

For IELTS, a flat fee of Rs. 1,500 will be charged for the first Rs. 6,000 to 7,500

A fee of 20% to 25% will be applicable on any amount that exceeds Rs. 4,800, Rs. 6,000 or Rs. 7,500
March 12, 2021
Calendar pop-up added to the enquiry:

Instead of going to the calendar to see demo classes you took, you can now just click on the date and time shown in the enquiry and see the details of the class in an instant.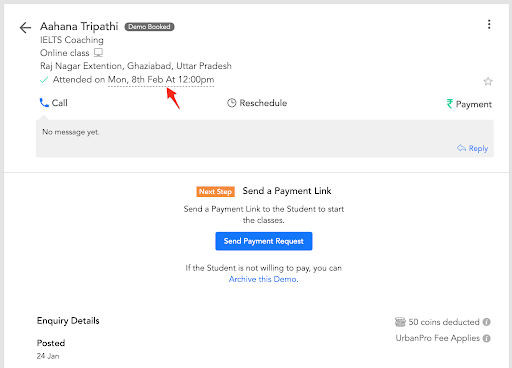 5 March
Demos bookings will depend on coin balance
Students will still be able to book demos with you even if you don't have a sufficient coin balance. However, you will not be able to book demos with students.
Sharing documents over chat becomes easier
As you know, you can share files with your students while chatting with them on UrbanPro. We have now made sharing of files even simpler. Now, all you have to do is to drag and drop the file you want to share, in the chat window.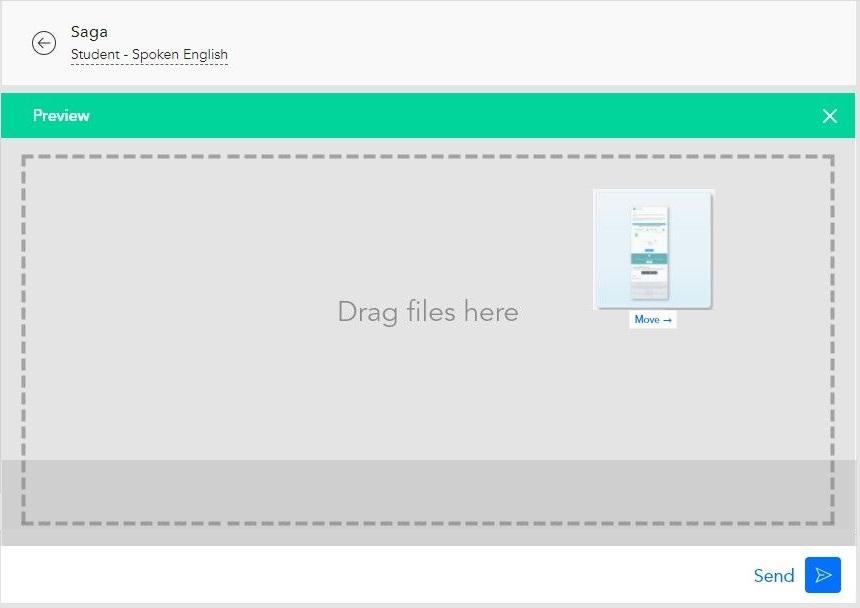 February 2021
26 Feb
Updates to coin deductions
As you know, we deduct coins only for valid connections made between tutors and students over a call, a message or a demo. However, all of them resulted in an equal number of coins getting deducted. Since demos have a higher probability of conversion, henceforth, these will result in additional coin deduction. We believe this will help us sustain the growth of the platform and deliver a better experience for you with additional investments in product and demand. Please go through the details of the new coin deduction policy below carefully.
No coins will be refunded if the students miss the demos

If the student cancels the demo booking within 1 hour, 1X coins will be refunded. (1X means the charge will be equal to the coins charged for a connection between student and tutor)

Coins will be deducted when a call to a student is made or a message sent by the tutor is read

After the call/message, if the student or the tutor books a demo, additional 1X coins will be deducted

If the student/tutor directly books a demo, without a call or message, then 2X coins will be deducted (2X means the charge will be equal to twice the coins charged for a connection between student and tutor)

If the tutor directly sends a payment link, and no coins were deducted earlier, then 1X coins will be deducted

All deductions will be shown while tutors are scheduling demos
Demos can't be booked if the account has insufficient coins
If you do not maintain a sufficient coin balance in your account then neither you nor the students will be able to book demos with you. You will also see a message that will inform you if your coin balance is insufficient while booking a demo.
19 Feb
Share links to external websites
Some of you told us that you were not able to share links to official websites for students to visit. Well, after this update you won't have to worry about that anymore. We have begun making it possible for you to share links to official websites like:
tcyonline.com

ieltstest.com

Ielts-exam.net
No more confusion with closed enquiries
To reduce confusion about an enquiry's status, we have created a completely new tab where you'll be able to see all closed enquiries. These will be the enquiries that you didn't respond to and have now been closed.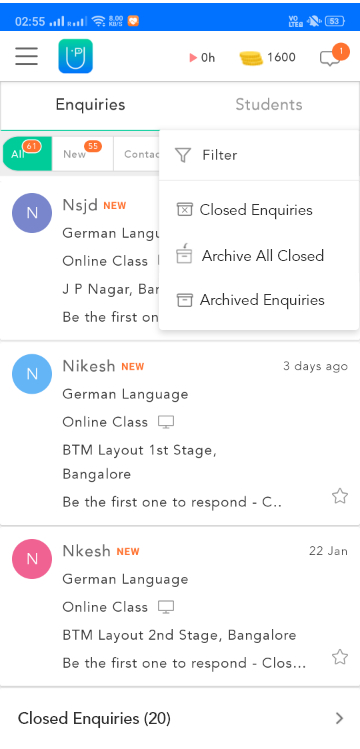 13 Feb
Reschedule missed demos directly from the calendar
If you had a demo scheduled and you didn't conduct it, you will get a popup when you go to the calendar allowing you to reschedule that demo to a more convenient time. If you choose to reschedule the demo you will be able to pick the right time once you click on the Reschedule button.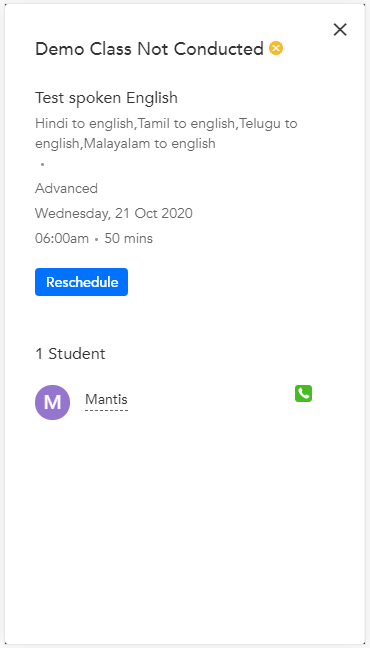 Reschedule upcoming demos directly from the calendar
If you have a demo booked with a student, you will also be able to reschedule it from the calendar. For upcoming demos, you will also have the option to cancel it from this popup, provided it is cancelled at least 4 hours in advance.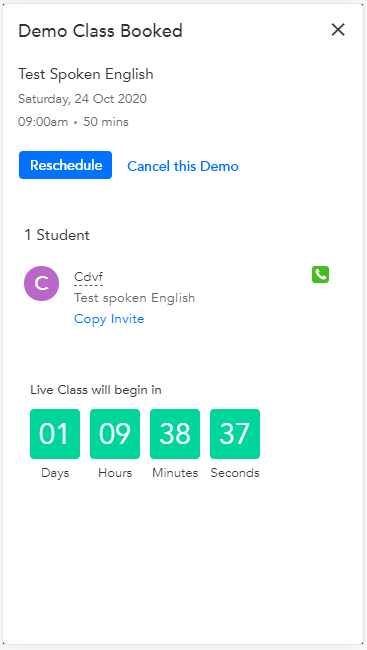 Auto response is back!
You can set up automatic responses to enquiries from the UrbanPro Partnership program too. This will allow you to respond to student enquiries even while you are away. Please note, for auto-response, coins will be deducted the moment the automatic response is sent.
5 Feb
Schedule classes for entire batches
You will now be able to schedule classes for an entire batch of students at a time. To use this facility, all you have to do is add students to a particular batch. Then, while you are scheduling a class, instead of typing a students name, just enter the name of the batch. This will schedule a class for all the students in that batch for your chosen date and time. You also be able to add other students to this class if you wish to. Once scheduled, all students in the class will be notified via messages, emails and notifications, about the upcoming classes.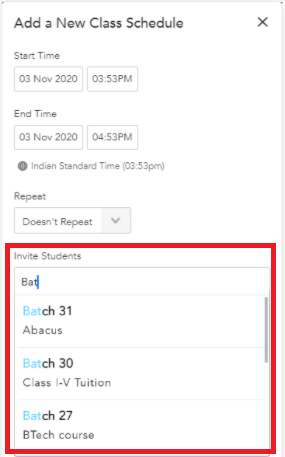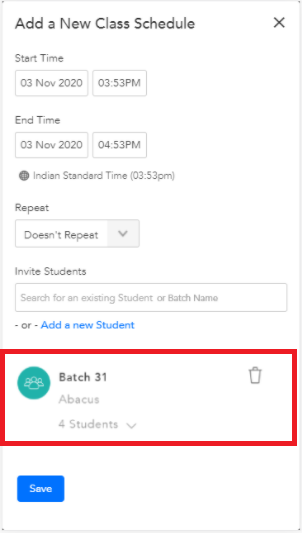 Chat with the batch
We have made changes to the chat option as well. Now you can send a message to an entire batch. Once sent, all students in that batch will be able to see your message and respond to it. This is designed to help make communication with your students easier.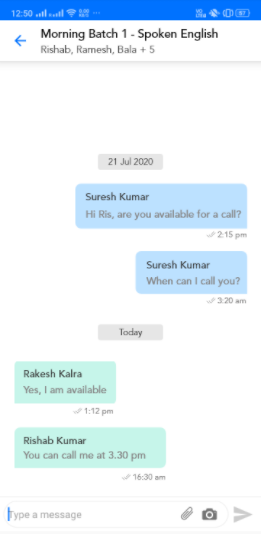 Updates on students
If a student has a demo scheduled with you and he/she starts classes with another tutor, you will now be notified of the same. Should a student start classes with another tutor, any demos booked by them with you will also be cancelled.
27 January
No attachments sent through Zoom chat
We will no longer support attachments being sent to students via the chat option in Zoom. This support will be withdrawn by the 29th of January. If you wish to send students attachments, you can use the chat option available in the UrbanPro Platform.
Apply to become a Top Tutor
Once you meet the requirements, you can apply to become a Top Tutor for the categories that you are eligible for. When you click on the Apply button, if you meet the criteria, you will instantly be upgraded to a top tutor and enjoy benefits like Account Managers and greater search visibility on UrbanPro. You can read more about it here.
Refer & Earn
Whenever you refer a student to UrbanPro and they make their first payment for classes, you will get a referral bonus of Rs. 500. The student you referred will also get a one-time discount of Rs. 500. To refer a student, simply click here.
15 January
Chat with the right student
Using the in-built chat feature on the UrbanPro platform has been made easier because you can now search for any of your students you want to chat with. No more scrolling through lists of students to find the right one.

Intro videos are now specific to categories
If you teach Spoken English, it doesn't help much if your intro videos talk about other subjects you teach. To solve this problem, you can now upload a unique intro video for each category you teach. All you have to do is go to Profile>> Profile Information>> Gallery>> Intro Video. Then choose a video to upload and select the categories you want to show for.
Updates in 2020
December 25
Apply to become a Top Tutor
You will now be able to apply to become a Top Tutor yourself if you meet the minimum criteria for it. You will need to have:
A good intro video

A minimum of 5 reviews

A minimum of 1,200 coins in your account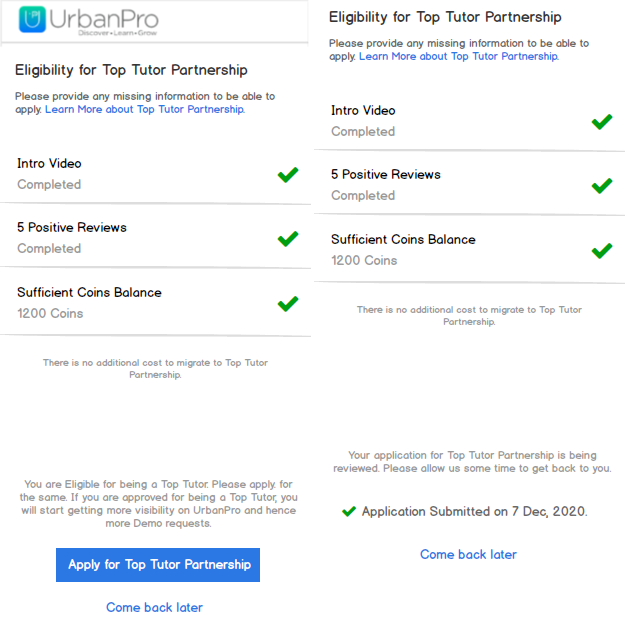 If you meet the criteria you can ask to be switched to a Top Tutor. Once you apply, someone from our team will get in touch with you and guide you through the rest of the process.
December 18
Send payment requests directly after the demo is completed
Now, instead of going to the demo tab or the contacted tab etc., you will be able to send a payment link to students the moment you finish the demo class. This has been done to help make the conversion process more streamlined.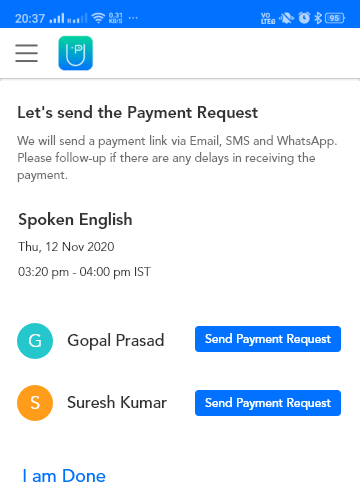 Need alert before approval
As you wait for your account to be approved, after having applied for the UrbanPro Partnership program, you will still be able to see the requirements students raise.
Tutors can offer certificates of participation
Your students may want validation for completing classes with you. Well now, you can offer them a certificate of participation that they can download once they have completed classes with you. Having a certificate available adds more value to their experience studying with you.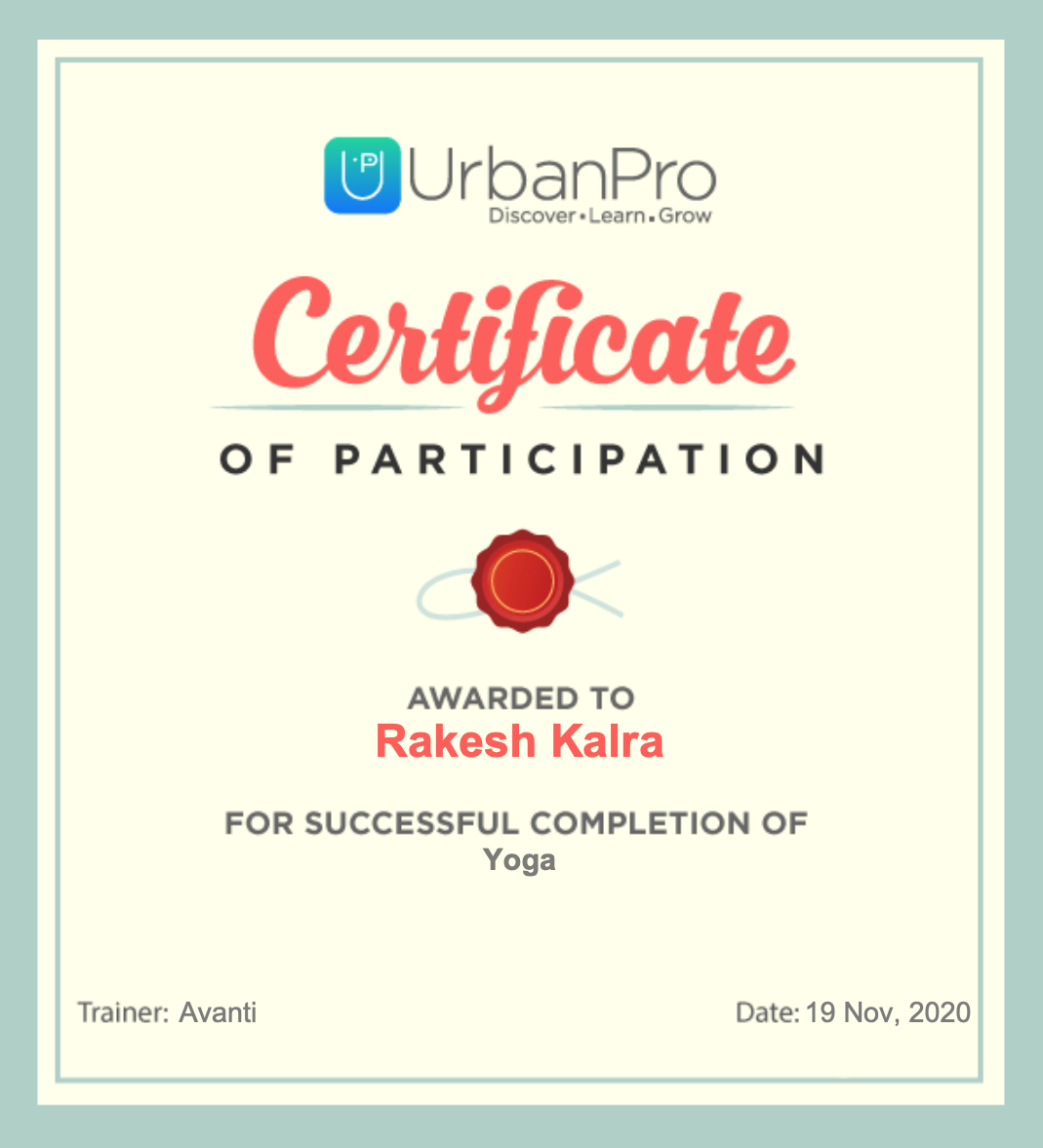 December 4
Attending demos is crucial
Demos are central to making the student and tutor experiences as great as can be. Therefore, we have focused more on them now. Since our objective is an excellent experience for both tutors and students, going forward:
If

students

miss the demo
We realise that your time is precious. That is why you will be compensated with 2X the coins that were spent If all the students miss the demo class.
If

you miss

the demo class

You will be charged 2X the coins for every student, whose demo you miss

Your account will automatically be suspended if you have missed 20% of the demos in the last 7 days (based on the number of students in each demo).

The first suspension will be for 7 days. On the second instance, your account will be suspended for 30 days. Any further violations and your account will be suspended permanently.
Reschedule demos to a convenient time
To make rescheduling of demos easier, and convenient, we have updated our platform to allow you to reschedule a demo to any time of your choosing. You no longer have to reschedule it only using the demo availability times.
November 6
Payment details added under Demo tab
Now you can see the details of payments made by students bu clicking on the Payments option under the demo tab.

November 27
Tutors can book demos at any time
Earlier, if you wanted to book a demo for a student, you had to use the slots you had already set up in the demo availability. Now you'll be able to book demos with students at any time other than the demo availability times also as long as they don't overlap with existing demo slots.
Share files through UrbanPro Chat
UrbanPro chat now supports attachments. This will allow you to share files with students with ease.
October 23
Tutor Partner introduced
This is when UrbanPro Assured changed in the UrbanPro Partnership program. With this change, there were two levels of membership created in the program, Tutor Partners and Top Tutors.
Student Payment summary added
With this feature a new feature, we have added the option for tutors to see the details of payments received from students via UrbanPro. It shows details of payments which are pending, made or scheduled for the future. (student payment details 1 & 2 image)
October 16th
Student feedback feature launched
Using this feature the students can provide feedback about the Demo classes they attended and what they felt about them. This is a crucial step in ensuring that students also receive the experience they are looking for from tutors.
Native Zoom integration
Up until now, to be able to launch and conduct classes on UrbanPro, Zoom software needed to be installed on the tutors' mobile devices, laptops or PCs. With this update, the need for installing Zoom's software has been eliminated and classes will work even if you don't have Zoom installed on your machine.
October 9th
Hindi classes shifted to UrbanPro Partnership
100% of the demand for Hindi classes was shifted to the UrbanPro Partnership program meaning that only tutors who are a part of the program will be able to respond to enquires for Hindi classes.