How to complete your UrbanPro profile?
As a Tutor or Institute, your UrbanPro Profile is the most powerful tool you have on the internet; it helps you grab the attention of prospective students and convey your credentials. So why wait? Complete your profile now.
Follow the steps given below to update and complete your profile now:
Step 1 - Log in to your UrbanPro account
Step 2 - Click 'Profile and Profile Information'
Note: Make sure to answer the mandatory questions marked in (*)
Step 3 - Click 'Personal Information': Your personal details help establish your identity with students/parents. For this, you need to enter your personal details such as complete name, Date of Birth, email address, your website or blog link (if any), gender and 'Save Changes'. This information will remain confidential and will not be shared with any third party whosoever. Your privacy is of the highest importance to us.
Step 4: Profile Tagline: A punchy tagline is an interesting way of attracting students' attention. This tagline will be displayed on your profile. You can talk about your experience or past student results or anything that will compel students to view your profile. Add a unique but short catchy tagline(Max 100 words) now.
Step 5 - Phone Number: We need your valid and active mobile number to put you in touch with students through SMS and phone calls. Get your phone number OTP verified, else you will not be able to receive enquiries from students. You are allowed to add multiple phone numbers as well.
Step 6 - Address (location on the map) - We need your exact location on the google map to send you relevant enquiries only from localities near to your place. , This will also help us to show you a map of how to reach the prospective students place from your address.
To add your Address = Click on 'Address' ---> Click on Add/Update (it will take you to a Google map) ---> On the search bar type your building name/landmark name ---> Select the correct address shown in the dropdown-> Click 'Set my Location' on the location pointer---> Fill your address details---> Click Update
Note: If you are not able to find your exact address on map, select the nearest landmark and add your address.
The locality of your address will be visible on your public profile. The exact address that you fill in the form after setting your location on the map will not be shared with students for security reasons. However, if you wish to share the full address, you can set the 'display full address' preference on the address page.
To get relevant matches with local students you should select a distance (in kilometres) and localities from where you want to get student enquiries. To know more about setting these enquiry preferences, Click here.
Step 7 - Profile Picture - "A picture is worth a thousand words", a good profile picture of yours will create a very positive impression on the students! It will act as a voice for your profile for whoever visits your account. Hence, it is mandatory that you upload a good profile picture. Tutors or institutes with credible profile pictures are given 1st preference by students and parents, improving your chances of getting shortlisted. Your photo size should be at least 100px wide and maximum up to 10MB in size in .jpg, .png, .gif or.bmp format only.
Note: Institutes can use their logos as a profile picture.
Step 8- UrbanPro Verified Badge: Trust is an important factor when it comes to selecting a tutor. Students always look for someone whom they can rely on and one who can help them throughout their learning process. Earning an UrbanPro Badge will help you in building trust among students and increase the visibility of your profile. To get a urbanpro verified badge on your profile, you need to update your Identity document (PAN Card/ Drivers License/ Aadhar Card) and certificates supporting your education. After our team verifies these documents a verified badge will be given to you.

Step 9 - Qualification & Experience- Tutor qualification and experience help students and parents decide if the tutor will be able to meet their required learning needs. So, enter the details and increase your selection chances!
Education- Education is one of the important reasons to get hired. Starting from graduate degrees, professional development courses to certifications, mention every educational degree that you hold or are pursuing, to prove the credibility of your knowledge.
Languages you speak- students might prefer to learn from tutors who speak their language. So, mentioning the languages you speak it will help in improving your chances of being selected by a student. For example, we hear students who say, "We want to learn English from a Tamil medium tutor."
Summary of experience- Many Students and parents may not have the time to go through your entire profile. So, a good summary will convey the right information students/parents are looking for without demanding much time of theirs. A description example: I am an experienced, qualified teacher and tutor with over 15 years of experience in teaching Maths and Chemistry, across different boards including CBSE, ICSE, IGCSE and State Board. Passionate about solving mathematical problems and chemical equations, over the years I have helped thousands of students overcome their fear of Maths and Chemistry. So far, I have worked as a Teacher with Presidency School (Bangalore), DPS (Bhagalpur) and Kendriya Vidyalaya (Nagpur).
Step 10 - Tutoring Information- The more information you provide on your profile, lower are the chances of student rejecting you, when he reaches out to you. Students often say "I want a Tutor who teaches selective students only". Hence this section allows you to tell the world whether you are a full-time or a part-time tutor and how many students you teach. Students also want to know your willingness to provide a demo class and if a demo class is chargeable or not. Don't forget to save changes once done.
Step 11 - Gallery - Students and Parents want to know more about your teaching style, your class ambience, your notes etc. Your gallery section allows you to upload intro video/ photos/ videos/ documents to answer all such queries of your audience. An intro video is one of the most important pieces of your profile, think of it as your 90 seconds sales pitch to the Student of why they should select you over others. Get going and upload all the material you can for your profile and get your prospective students excited. (Please note any of these documents should not have your contact details, else our teams will have to reject the document)
Note: Make sure to answer the mandatory questions marked in (*)
Step 12- Once all the above-mentioned steps are completed, click on 'Your Profile on UrbanPro' to check how your profile looks like.
After completing the 'Profile Information' section, it is also very important to complete your 'Classes Conducted' section.
If you had created a profile earlier and were unable to enter all the details, you will get a notification on the top of the screen informing you that information from your profile is missing. To check and add the information:
1. Click on Complete Your Profile in the notification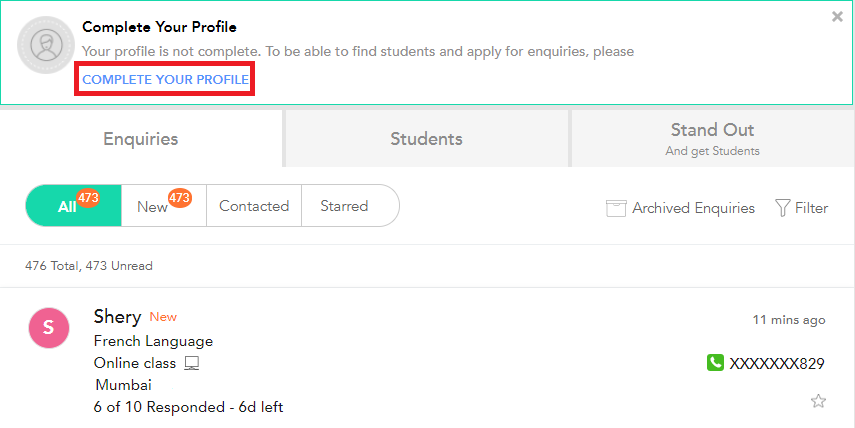 2. Add the information that is missing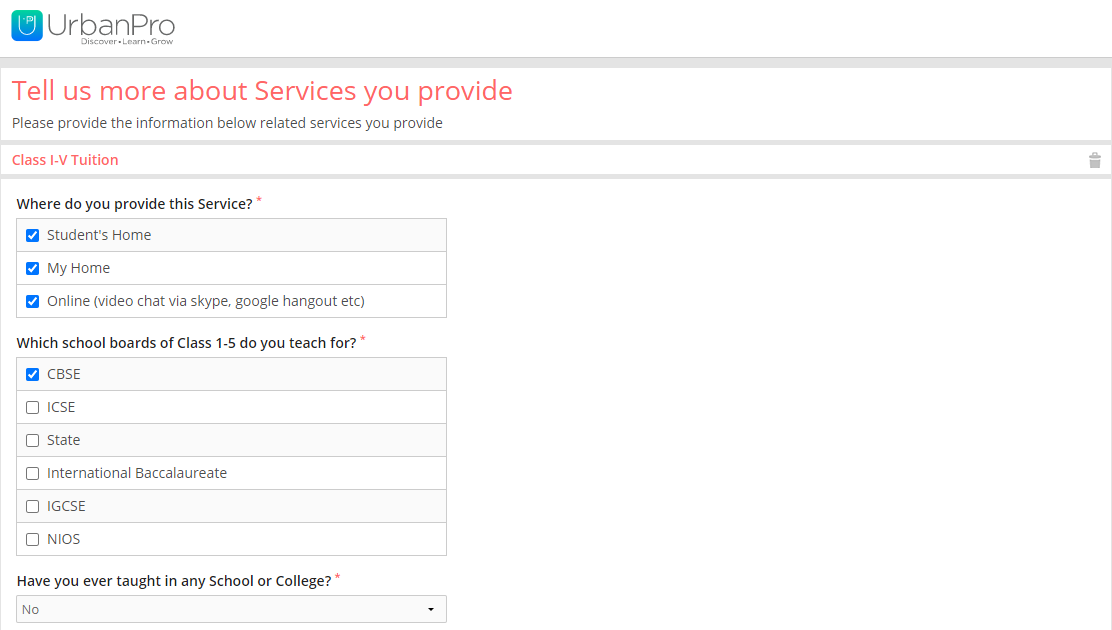 3. Click on Submit to save the changes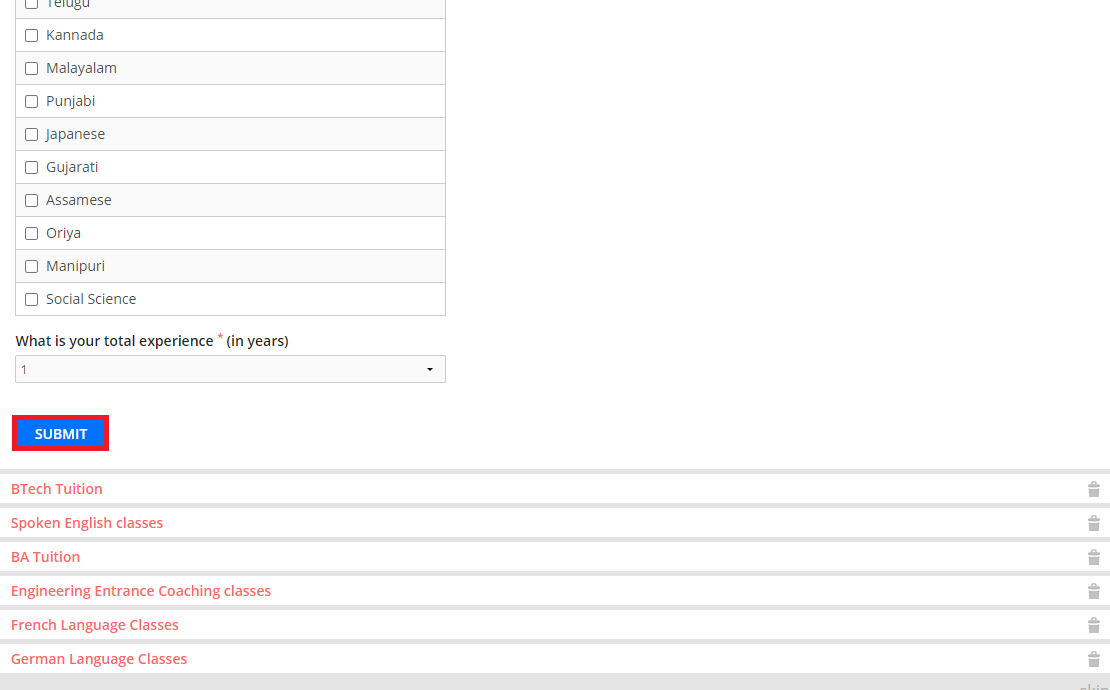 This screen allows you to see all the places where information needs to be added. If the information needed is for a subject you don't, or no longer, teach, then you can remove it by clicking on the delete button on the right-hand side.